Chicken Police "Director's Cluck Edition" update out now (version 1.0.3), patch notes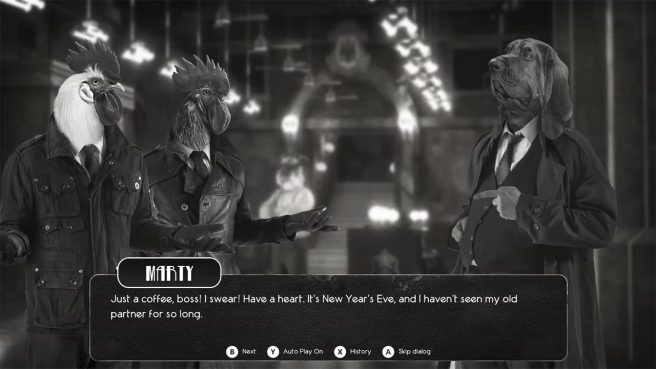 Chicken Police has gained a new update, bringing the game to version 1.0.3. This is the "Director's Cluck Edition" with a couple of new features, improvements, and fixes.
Below are the full updates for the Chicken Police version 1.0.3 update:
BIG FEATURES

New notebook notification system: This is the most requested feature from you, guys, so we are delighted to implement this in the Director's Cluck update. You can now see how much new info you have in each category, and we highlight every specific one individually to find them easily.
New function = Detective eye: You have a new icon in the bottom left corner of the screen. If you press this icon, every interactive element will be highlighted on your screen!

SMALLER FEATURES / QUALITY OF LIFE CHANGES

If you press the "skip dialog" button the first time, you'll get a warning instead of instant skipping the dialogue instantly. (this occurs just once in a playthrough!)
We have new and convenient popup tutorial messages if you look at your inventory or your notebook for the first time. (this also occurs just once in a playthrough!)
You'll get a warning message every time you click or press a button while a cutscene is playing, preventing accidental cutscene skipping.
You can now change categories in the notebook simply by turning pages.
We have a new gradient-black background behind our platform-specific elements to improve readability while playing with a controller.
We tweaked the left and right scrolling threshold heavily to prevent accidental scrolling while you want to press or click on a button in the corner of the screen.

BUG FIXES AND TWEAKS

You don't get Ibn's 7th personal info early anymore (which caused some spoilers and confusion).
Fixed some Japanese typo issues and minor translation mistakes.
We fixed plenty of English typos and mistakes.
The jukebox now doesn't play songs that you haven't discovered yet.
Car chase minigame is way smoother (and somewhat easier) now.
We updated the zipper animation and controls in the zipper minigame for a smoother zipping experience.
We added some UI refinements regarding the options menu, controller mappings, clue-connector texts, and more.
There were several routes to achieve 100% on some of the questionings. Now there is just one per suspect.
The rope minigame was too hardcore because of the speed of the fire effect, we tweaked that for a better experience.
There was a possible softlock issue on the clue connector. It's now gone.
We fixed a camera-related bug that sometimes happened when you zoomed in and out which could cause some annoyance.
We managed to add more than 50+ other minor bug fixes and tweaks!
All players can download the Chicken Police version 1.0.3 update now.
Leave a Reply