Chilean games retailer "Zmart" lists "Battlefield 4", "Modern Warfare 4" as coming to Wii U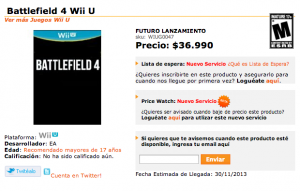 The image above shows a supposed "Zmart" listing for Battlefield 4 on Wii U, as noted by the Nintendo Pe Facebook fan page. The source also mentions the store as having the Pikachu 3DS XL available for pre-order with a tentative March date. The only problem? They also list "Zelda Wii U" and "Modern Warfare 4 Wii U" as coming, despite the fact that those are clearly just placeholders.
Is this to be believed? Maybe. For now, we'll remain skeptical. We won't know for sure until Activision or EA say something!
Listing for Call of Duty: Modern Warfare 4 Wii U
Listing for Battlefield 4 Wii U
Thanks to Carlos for the news tip!
Leave a Reply