Co-op action platformer 30XX announced, sequel to 20XX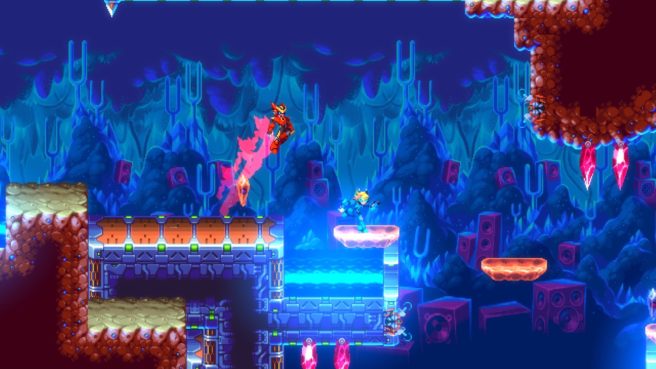 Batterystaple Games is building on the success of 20XX for its next project. In partnership with Kowloon Nights, the studio is developing 30XX, a co-op action platformer. It's on track to hit consoles in 2021 – which almost certainly includes Switch given the prominence of 20XX on Nintendo's system.
Here's the first information on 30XX as well as the debut trailer:
Inspired by classic Mega Man titles and infused with modern design, 30XX builds upon 20XX's Megaroguelike foundation with a plethora of new features including a new hi-bit art style from art director Glauber Kotaki (Rogue Legacy, Duelyst, and Chasm) and a fresh set of eight new worlds to explore, each with their own identity, platforming mechanics, and fearsome Guardian.

Beyond the aesthetic overhaul, 20XX heroes Nina and Ace return with a myriad of new abilities. No longer merely wielding different primary weapons, in 30XX the powerful pair possess entirely distinct move sets allowing greater freedom of expression for both exploring levels and beating back the machines holding Earth prisoner.

Nina's new Power Fusion system allows her to meld together abilities earned from vanquishing bosses and tailor them to the situation at hand with 64 separate attacks. Meanwhile, the blade-brandishing Ace boasts a versatile set of Techniques, which can be chained together with standard attacks to unleash fierce combos, adapt to any situation, and reach new heights.

30XX also introduces a fresh level of roguelike challenge and reward with its new metagame currency, Memoria. Collected during runs, Memoria can augment the experience, boosting character abilities, giving keen insight into the challenges to come, or altering how stages generate other helping hands. Once certain criteria are met, turn up the heat with Entropy Conditions, introducing optional layers of additional difficulty in exchange for Memoria and other rewards.
30XX will be available for hands-on demos in the Indie Megabooth at booth 21027 during PAX East 2020 between February 27 and March 1.
Source: Batterystaple Games PR
Leave a Reply