Co-op party game Squish hitting Switch in May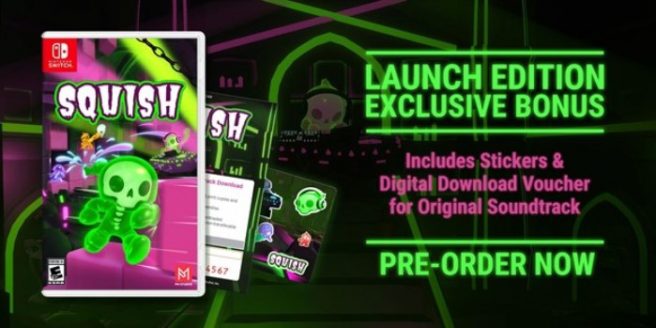 Today, publisher PM Studios and developer Grave Rave Games announced that the co-op party game Squish will soon be appearing on Switch. The game is set for release on May 31, 2022.
Here's an overview of Squish with further information:
Don't let the adorable, brightly colored graphics in Squish fool you. This is a fierce, competitive, and lightning-fast local and online multiplayer platformer. Up to four players can join an underground rave of the gooey undead and party it up until it starts falling down. Literally. Even as debris rains down, players must run, jump, and push blocks around to get into a better position to squish opponents. As with all great "winner-takes-all" games, the last goo around takes it all!

Key Features

– Squish other players directly and try to survive until the end while partying on the sides, there are many ways to rave it up.
– Party all you want, but surviving a collapsing underground rave is tough!
– Squish is easy to learn, but hard to master!
– Whether using a mouse and keyboard or a controller, there are only a few controls to pick up before anyone can push blocks and dodge threats that come along.
– Mastering the controls and knowing exactly how to manipulate the terrain to survive, however, is another story.
We also have the following trailer:
Squish will be sold both physically and digitally on Switch – check out the boxart above. On the eShop, it will cost $9.99. Amazon has opened pre-orders for the physical version here.
Source: PM Studios PR
Leave a Reply