Couch co-op removals game Get Packed: Couch Chaos heading to Switch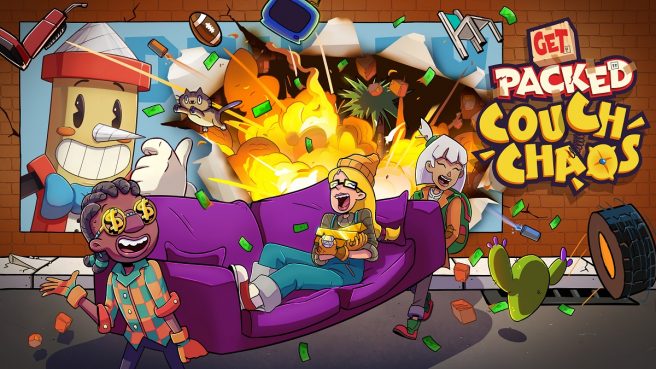 Coatsink today revealed that a Switch version of Get Packed: Couch Chaos, Moonshine Studio's couch co-op removals game, is in the works. The game is slated for April 28, 2022.
Here's some information about the title:
Get Packed: Couch Chaos is the local couch co-op removals party game that's full of calamity and carnage for 1-4 players.

When a greedy salt mining company takes over Ditchlington, Last Ditch Removals must handle the hostile eviction. Being the only moving crew in town, demand has far outweighed supply, so there's no time to dally! Snatch people's stuff, throw it in the truck, and move on to the next house… leaving a trail of destruction, explosions, and debris in your wake!

The original Get Packed launched to critical acclaim in April of 2020 on Stadia, where it went on to become the #1 highest rated Stadia game on Metacritic. Following an expanded edition that added a truckload of new content that is now available on Switch, this new version also adds a new selection of minigames alongside a full campaign, Time Attack, Versus and Destruction Game Modes.
View a trailer for the new Switch version of Get Packed: Couch Chaos below.
Get Packed: Couch Chaos will be made available on Switch through the eShop. It will cost $14.99 / €14.99 / £9.99.
Source: Coatsink PR
Leave a Reply