Couch party game Brief Battles launches for Switch in February 2020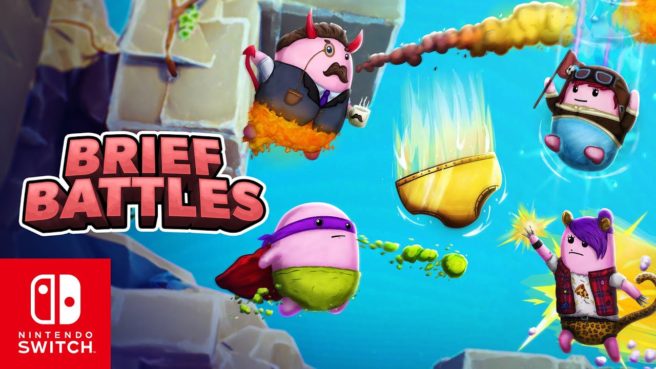 Juicy Cupcake today dated the couch party game Brief Battles for Switch. Although it was previously expected sometime this year, it now has a final release date of February 21, 2020.
Here's an overview of Brief Battles, along with a trailer:
The Nintendo Switch adaption of Brief Battles runs at a slick 60FPS, with camera tracking and UI improvements for playing as your favourite Underwearrior on the go. In addition to the backside brawler launching on Switch, a free, major content update will be released for all platforms (Switch, PS4, Xbox One, PC) on the same day! Juicy Cupcake will reveal more update details closer to launch.

Brief Battles is jam-packed with game modes for local multiplayer mayhem, creating ample opportunities to kick enemies' butts throughout 50 hand-crafted arenas. Gather up to three friends, cheek-to-cheek on your couch to dominate in Knockout, team or free-for-all Classic Battle, Hold the Gold and Underpants Collector, slipping-on super-powered underpants from the likes of Flaming Hot Pants and Buns of Steel.

Master a mountain of solo and co-op challenges, or battle beasties with a friend to unlock charming crossover skins inspired by popular indie hits! Yooka-Laylee Violet (Yooka-Laylee), CommanderVideo Chad (Bit.Trip.Runner), Machinarium Tubbins (Machinarium), Goo Kevin (World of Goo), Toto Sparrow Deluxe (Toto Temple Deluxe) and Stumpy Kevin (Stumpt Gamers) are in the mix and ready to battle!
Source: Juicy Cupcake PR
Leave a Reply