Crime O'Clock confirmed for physical release on Switch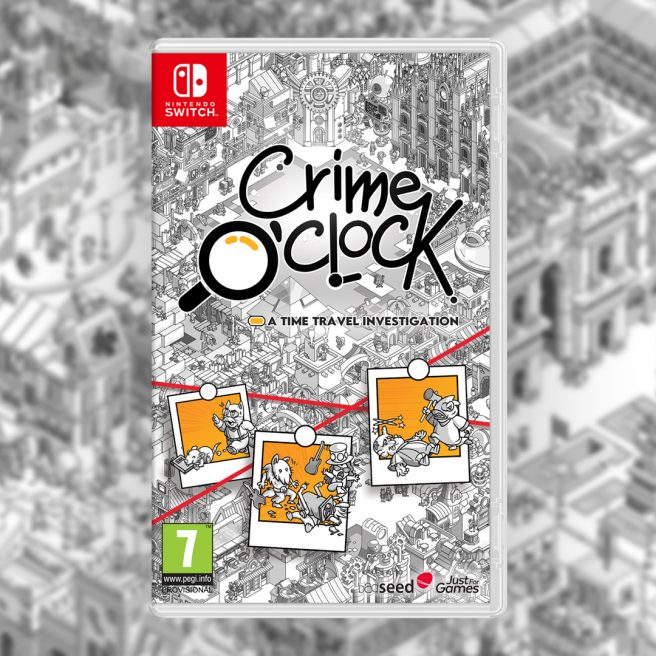 The investigative game Crime O'Clock was previously announced for Switch, and Just For Games has now confirmed plans to produce a physical version.
Thus far we only have confirmation that it'll be available in Europe. However, as always, importing is an option for Switch owners in other parts of the world.
Crime O'Clock remains on track for a debut in 2023. Read more about the title below.
Crime O'Clock is an investigation and time exploration game with a deep storyline. Investigate cases through time and evolving maps by unveiling a multi-eras linked story.

Will you be able to restore the True Timeline? – ALERT! ALERT! TIME FLOW CONTINUUM AT RISK!

Prevent crimes before they happen! It's Crime O'Clock!

Investigate cases through time and evolving maps by unveiling a multi-eras linked story. Will you be observant enough to solve the mysteries? Crime waits for no man

"Another "Where is Waldo" game? Obviously not!"

Time travel

As a time detective, your job is to solve crimes through time that should never have happened!

Each map has multiple time markers to visit and use to resolve different cases of hacking, murder, theft, and much more.

But a common thread of strange events is developing over the centuries…

An ever changing map!

Something or someone is trying to disturb time, find it!

A HUGE zoomable map for each era is the playfield for the deductions and the search for clues. YOU must proceed with a deductive method to combine the missing pieces.

By resolving cases the map changes and new adventures are unlocked.

EVE, tools, and the help systems

As you can see, it's a point & click game; the only skill you need is your fully functional brain to stop crime!

You will not be alone in your job: EVE, an advanced AI, will help you, providing guidance and tools.

Using EVE's system, you have new ways to find clues and evidence: deductive sessions alternate with action and puzzle mechanics for a complete user experience.

During your adventure, EVE will upgrade its systems, unlocking new features…

During the investigation, you will explore five different ages:

Steam Age, with automata, crazy inventions, and gothic mysteries
Atlantean Age, with its magic crystals and its peaceful and utopian civilization.
Information Age, based on the real city of Milan in Italy, the developers' hometown. It features some of the most iconic buildings such as Duomo di Milano, Castello Sforzesco, The Last Supper and many more!
and more to discover soon…
Source: Just For Games PR
Leave a Reply