Dandy Dungeon coming to Switch this summer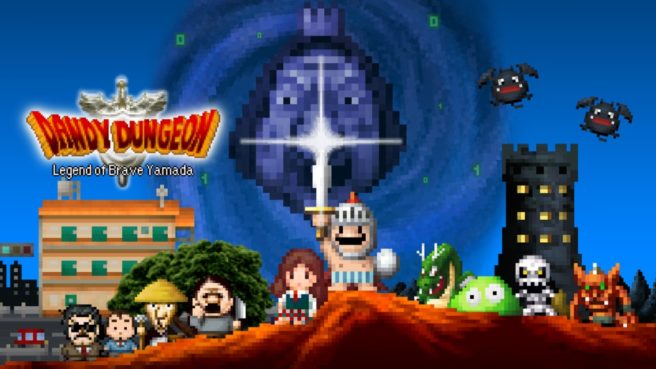 Black Bird developer Dandy Dungeon is coming to Switch, the studio announced today. It will be playable for the first time on Nintendo's console at BitSummit next weekend.
Although this won't be Dandy Dungeon's first release, the puzzling rogue-lite RPG has been rebalanced for Switch. Onion Games is also teasing "brand new exclusive features".
Here's the complete announcement plus a trailer for the original launch of Dandy Dungeon:
Hello Onion fans everywhere! We are happy to finally announce… Dandy Dungeon ~Legend of Brave Yamada~ will be coming to the Nintendo Switch in Summer 2019!

This is Dandy Dungeon as it's always meant to be played: rebalanced for console release, and full of all of the monsters, loot, secrets, and surprises you could possibly want, plus brand new exclusive features!

The game will making its worldwide debut at the upcoming BitSummit event in Kyoto, Japan, June 1st & 2nd! If you are also attending, please be sure to come to the Onion Games booth, play the game, and get one of our special cards we've made for you!

Also available at the booth will be brand new Dandy Dungeon badges (that's them up there), as well as new live concert CDs, and more of all of the amazing merch we have available at the Onion Store.

Dandy Dungeon is the story of Yamada-kun (Age 36), a programmer at a major game publisher. He hates his job. Alone in his apartment, deep into the night, he toils to create a game of his own: it's an RPG, and he is the hero, Brave Yamada!

One day, he falls in love at first sight with his new neighbor Maria-chan. In an effort to nurture these feelings, he adds Princess Maria into his game!

Will Yamada-kun and Maria-chan find love?

Is destiny pre-programmed, or randomly generated? Is love a bug or a feature?

Find out in this unique, puzzling rogue-lite RPG, coming Summer 2019 from Onion Games!
Leave a Reply