Deck of Ashes, adventure game with tactical card combat, coming to Switch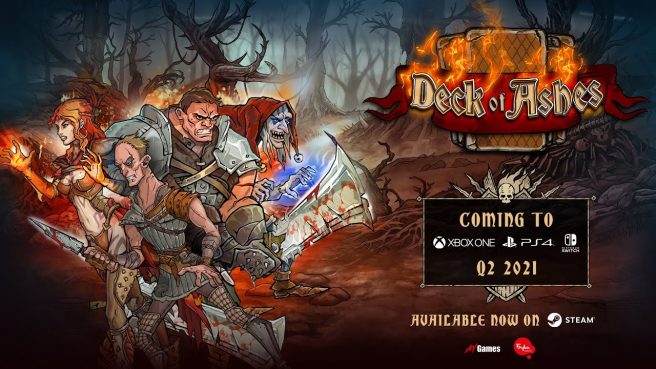 Publisher Buka Entertainment and developer AYGames have announced that they're bringing Deck of Ashes to Switch. The, adventure game, which features tactical card combat, is scheduled for Q2 2021 on the system.
Here's an overview of Deck of Ashes, along with a trailer:
Deck of Ashes is a hardcore story-driven RPG with a procedurally-generated game world and the card-based tactical combat system. The player takes the role of one of four antiheros and he finds and creates new cards in order to collect the powerful deck of cards and to defeat enemies in the turn-based tactical battles.

Every character's story is unique so there are four separate story campaigns and starting each of these campaigns generates a new game world! It is up to you do decide where to go, which enemy to fight next and what resources to collect to create cards. There are more than 100 cards in the game and players can mix them to create the unique decks and combat styles!

Key Features

– The eerie world of dark fantasy. All character, monsters and locations are hand-drawn!
– Four main characters—four story campaigns.
– Incredibly replayable! Every new game will be unique due to the procedurally generated game world.
– Insanely huge number of card combinations. Collect and create cards to fit your play-style.
– Biomes with various monsters: each biome affects the gameplay differently and inhabited by unique foes!
– The death is permanent in the finest tradition of a roguelike genre. Once dead you're dead forever unless… you use the Black magic
Deck of Ashes will be sold digitally for Switch via the eShop. Sibyl the Dark Soul and Elven Archer will be featured on consoles as a timed exclusive character.
Source: Buka Entertainment PR
Leave a Reply