Digimon World Re:Digitize Decode revealed for 3DS
Update: Clarified a few details and added in some Decode system information.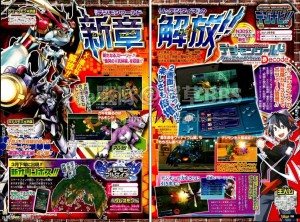 Digimon World Re:Digitize is coming to the 3DS. The latest issue of V-Jump reveals that Namco Bandai will be bringing the new game to Nintendo's handheld sometime this year.
Decode is an enhanced port of the original PSP title. V-Jump says that the game will include two brand new storyline chapters, one of which involves Omegamon X-Antibody as well as new Digimon. Information regarding the added story elements will be included in V-Jump's May issue.
This new version of the game will possess a new "Decode" system. By raising a Digimon's level through training, it will become more powerful through improved stats.
Take a look at the first scan of Digimon World Re:Digitize Decode above.
Leave a Reply