Dr. Mario World adds 8-bit Dr. Mario for 30th anniversary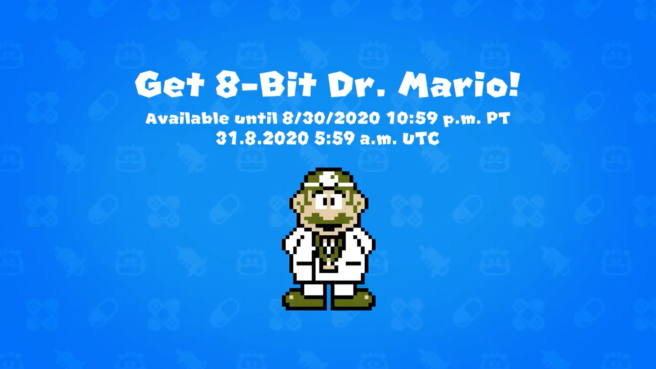 Today is Dr. Mario's 30th anniversary and to celebrate, Dr. Mario World is adding the character 8-bit Dr. Mario to its roster.
8-bit Dr. Mario's skill is to eliminate 3 special viruses immediately and he will be available until August 30th.
This announcement comes with a couple of gameplay videos of the Doctor, which have been added below to view.


Red: "Big news! Seems like THAT doctor is returning. I heard today's his 30th rotation around the sun. I don't think that's too old, but you should all wish him a happy birthday. Please take it easy on me." #DrMarioWorld pic.twitter.com/9AVdxpZ9iF

— Dr. Mario World (@Drmarioworld_EN) July 27, 2020
Blue: "I've collected information about that doctor. Hm? Things are a bit more boxy than usual. Something about it makes me feel nostalgic. You can get this doctor as a gift instead of from staffing. Apparently that lasts until Aug. 30." #DrMarioWorld pic.twitter.com/AtU29JEWdl

— Dr. Mario World (@Drmarioworld_EN) July 27, 2020
Leave a Reply