Dragalia Lost – 2nd Anniversary promotional event and Forgotten Memories raid updates
Posted on October 6, 2020 by Elias in Mobile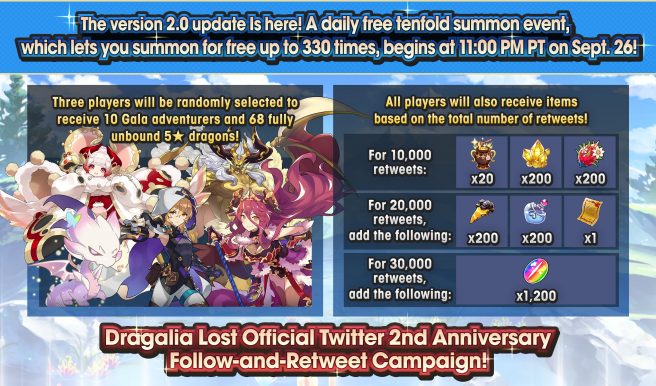 Dragalia Lost's previous Twitter campaign has been a success, with players exceeding the required goals for max rewards. You can take a look at the announcements from the Dragalia Lost team regarding current events here:
Thanks to your support, we exceeded 30,000 retweets between the Japanese and English Twitter accounts, so we will send gifts including 1,200 wyrmite and one champion's testament to all players!

A new difficulty level, Ciella's Wrath: Master, will be added to The Agito Uprising on Oct. 8, 11 PM PT!

Finish episode 9 of the Forgotten Truths raid event to unlock The War of Binding's Climax, a quest with fixed parameters. This quest allows you to experience the showdown with Morsayati, regardless of your team's might!
Leave a Reply