Draw a Stickman: EPIC 2 coming soon to Switch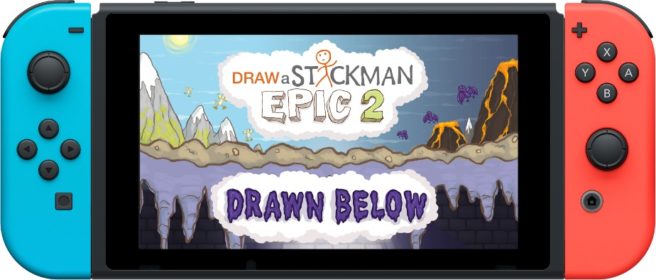 A listing on the North American eShop shows that Draw a Stickman: EPIC 2 is coming to Switch, and seemingly very soon. The official eShop page contains release date of January 11.
Draw a Stickman: EPIC 2 is an adventure game in which you create your own Stickman and guide it through a world filled with creatures. You can use pencils, tools, and weapons to save your friend from the evil ink.
Find more details about Draw a Stickman: EPIC 2 below, along with a trailer.
Bring your drawings to life!

Unleash your creativity as you draw a Stickman from your own unique perspective, and then watch your animated Hero come to life before your eyes! Make every idea a reality by saving unlimited drawings in your Sketchbook, and sharing them with friends!

A new story

Embark on a perilous journey through time! Draw your Stickman and create a friend! But be warned… disaster falls upon your ally! It's up to you to become the hero! Maneuver your way through the magical world of EPIC 2 in a quest to save your partner!

Your drawings matter

Create and save unlimited drawings in your sketchbook! Use them throughout your adventure!

Share and receive drawings with friends

With the new share feature, you can now send your creations to your friends! They will then be able to use your drawings in their own epic adventures!

Fight epic battles

Face off against inked-out goblins, tongue-lashing frogs, fire-breathing dragons, and BIG bosses! You must use your own strategies to solve intriguing challenges and puzzles, while battling all new villains!
Source: Switch eShop
Leave a Reply