Dungreed releases for Switch in the west in October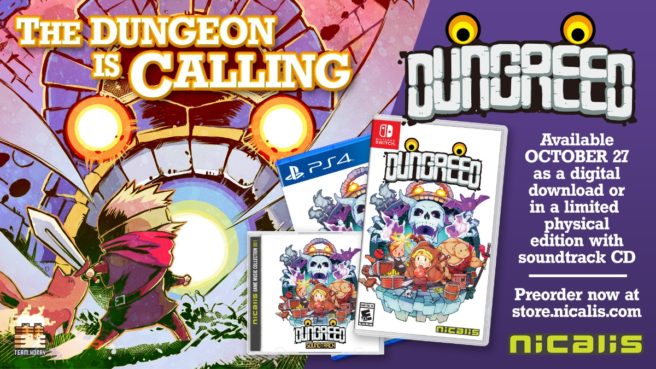 Today, Nicalis announced the final western release date for Dungreed, a 2D side-scrolling action game. It's planned for release on October 27 both physically and digitally.
Here's an overview of Dungreed, along with a trailer:
Developed by Team Horay, Dungreed lets players assume the role of an adventurer who must explore a continuously evolving dungeon in order to prevent the town and its citizens from being consumed. The dungeon layout is procedurally generated, ensuring a completely different experience each and every time you enter.

To advance through the dungeon, players must defeat a variety of different enemies by using powerful magic items and an arsenal of weapons, ranging from rusty swords to cutting-edge sniper rifles. To prepare for the journey ahead, adventurers can train to become stronger and better equipped prior to exploring deeper into the unpredictable dungeon.

Dungreed offers both single player and two player co-op game modes. In the latter, player two plays as a Shiba dog that uses a machine gun and collects unique item drops on the journey down the dungeon. Charming pixel-art graphics and dramatic music provide a retro-inspired backdrop to all the dungeon-crawling action.
Dungreed will cost $14.99 on the Switch eShop and $29.99 physically. The retail version comes with a reversible cover insert and full-color instruction manual. Players who purchase the limited physical edition from the Nicalis online store will also receive the game's original soundtrack on a full-sized jewel-cased audio CD.
Source: Nicalis PR
Leave a Reply