Dustoff Heli Rescue 2, DISTRAINT: Pocket Pixel Horror coming to Switch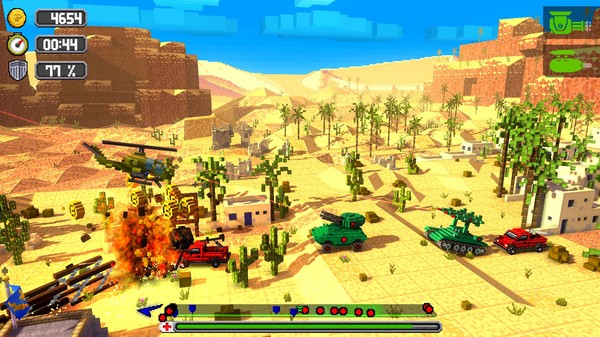 Ratalakia Games isn't slowing down on its Switch ports. Two new games have been revealed: Dustoff Heli Rescue 2 and Pocket Pixel Horror. Both have been released on other platforms previously.
Here's a trailer and overview for Heli Rescue 2:
In Dustoff Heli Rescue 2 you can:

Save hostages being held in Prisoner of War camps.
Combat in military attacks in the desert, forests, mines, swamps and fjords.
Build radio towers and bridges.
Protect the friendly truck and VIP convoy before the enemies can reach and demolish them!
Find and transport the stolen trucks and cargo and take them back to the HQ!
Fight against the extreme weather conditions and fly in dust storm, heavy rain and snow blizzard.
Install various gun, missile and rocket weapons to protect the friendly soldiers.

MAIN FEATURES

Up to 35 unique missions
9 helicopters, each with different characteristics and 3 extra vehicles
11 weapons, all with different capabilities
Artistic blocky 3D graphics
Various missions like: cargo transportation, saving hostages, tower building, air assault, convoy support and many more
Various daytime and weather conditions
Numerous war scenes including deserts, forests, hills, snowy fields, hidden cave and mine systems and a lot more to explore
Epic action music and cinematic sound effects
Up to 30 achievements and 30 leaderboards

All in a well known blocky style in a family friendly mode, where humans never die, enemies always run away.
And Pocket Pixel Horror:
DISTRAINT: Pocket Pixel Horror is a 2D psychological horror adventure game.

DISTRAINT was originally developed for PC and released on Steam 2015.

In DISTRAINT: Pocket Pixel Horror you step into the shoes of an ambitious young man named Price.

In order to forge a partnership from a famous company, Price seizes a property of an elderly woman.
In that very moment he finds out the price of his humanity.

This is his story and the tale of his regrets…

__________________________________

FEATURES

DISTRAINT: Pocket Pixel Horror is a horror story. It is dark and grim but also has its share of dark humor.

The story progresses quickly which allows for several settings and scenarios.
Your journey will last around two hours!

The gameplay is simple but effective: You move left and right and solve puzzles to progress through the story.

* Side scrolling 2D with unique, hand drawn graphics
* Atmospheric music and sound design
* Minimalist interface so your focus never wavers from the experience
* Delve into a unique story full of intriguing twists
* Refined controls – Super easy to play on mobile devices
Rainy Frog will be publishing both games in Japan. Ratalakia Games will be handling the releases in the west.
Leave a Reply