Evil Dead: The Game seemingly delayed further on Switch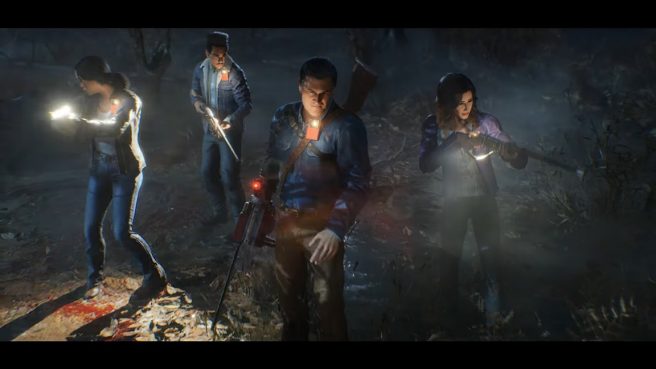 When Evil Dead: The Game was announced for Switch at the end of 2020, it was planned for release the following year. However, it was delayed to February 2022 last August. There was then another delay just a few weeks ago with the game moving to May.
It now seems that Evil Dead: The Game has been pushed back even further, but only on Switch. Publisher Saber Interactive and Boss Team Games shared the latest information today, stating that while it's arriving on May 13 for PlayStation 5, PlayStation 4, Xbox Series X / S, Xbox One, and PC, the title "is scheduled for release on Nintendo Switch in the future."
Here's the latest on Evil Dead: The Game:
Evil Dead: The Game is the ultimate multiplayer experience… and it's groovy!

Step into the shoes of Ash Williams or his friends from the iconic Evil Dead franchise and work together in a game loaded with over-the-top cooperative and player-versus-player multiplayer action! Play as a team of four survivors, exploring, looting, managing your fear, and finding key items to seal the breach between worlds in a game inspired by all three original Evil Dead films as well as the Starz original Ash vs. Evil Dead television series.

Key Features

Iconic Characters – Play as characters from throughout the Evil Dead universe, including Ash, Scotty, Lord Arthur, Kelly Maxwell, Pablo Simon Bolivar, and more, with new dialogue performed by Bruce Campbell and others!
Over the Top Visuals – Whether you're tearing a Deadite in two with Ash's famous chainsaw hand or flying through the map as the Kandarian Demon in spirit form, the game captures the look and feel of the Evil Dead franchise in all its glory, with realistic visuals and a physics-based gore system that brings the horror to life!
Play as Good or Evil… – Fight for the forces of good or take control of the powerful Kandarian Demon to hunt Ash and other players while possessing Deadites, the environment, and even the survivors themselves as you seek to swallow their souls!
This.. is My Boomstick – Brandish your short barrel shotgun, chainsaw, cleavers, and more to do some delightfully gruesome violence against the armies of darkness.
We've included a new Evil Dead: The Game trailer below. When we have a specific release date for Switch, we'll give you a heads up.
Source: Saber Interactive PR
Leave a Reply