Exploit in Switch 5.0 firmware update lets you access Twitter & Facebook feeds on your Switch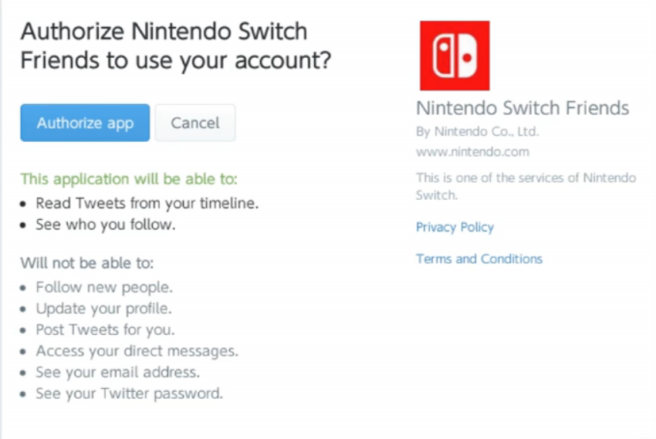 The latest Switch firmware update, 5.0, has just been released. Among other things, it expanded the friend suggestion feature, now letting you add friends from Facebook and Twitter if you link your Nintendo Account to your account on these social media platforms. However, an exploit lets you do more than that – it lets you access your actual feeds on both platforms.
This exploit was found by user PariahMentality on Twitter and reported by GameXplain in their latest video. When going through the steps to link your Nintendo Account to your Facebook or Twitter account, you will eventually be taken to a page where you have to agree to authorize an app called "Nintendo Switch Friends" to use your Facebook or Twitter account. Instead of clicking on agree, click on the Facebook or Twitter icon on that page, and it will take you to your Facebook or Twitter feed – specifically, the mobile browser version of them. You can then use pretty much all of the features of the respective sites. This is all happening using the Switch's internal internet browser, which is also normally unaccessible through regular means.
It's possible that Nintendo will release a patch soon that prevents this exploit, so if you want to try it out, better do it quickly.
Leave a Reply