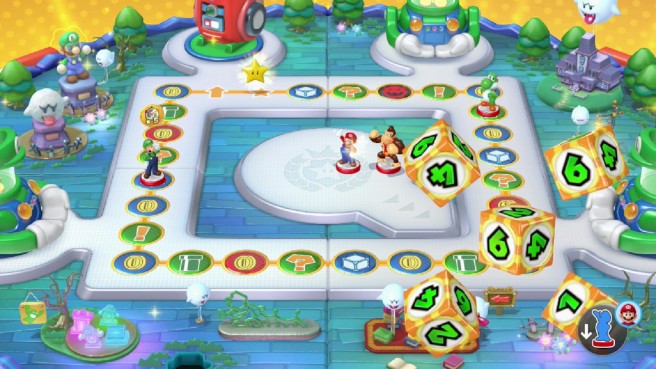 Famitsu has a review on Mario Party 10 this week. As we learned a few days ago, the game earned a score of 33 points out of 40 between four editors.
We now have a complete translation of what was written in Famitsu. Head past the break to read it in full.
Reviewer 1 – 8

Bowser can basically interfere with the entire game, and it's laughable and absurd how powerful he actually is. 70 new Mario Party-type mini-games have been added to the mix, as well as the return of some classics. It's optional, but amiibo Party also brings original maps and items.

Reviewer 2 – 8

There are rich mini-games with lots of action, but the luck element is strong, and team games are really enjoyable to play together. Mario Party 10 improved the tempo of the game. Playing becomes more competitive in Bowser Party as it is 1 vs. 4. The mini-games are unique, especially when using the Wii U GamePad. The variety of party games is also good.

Reviewer 3 – 8

It is nice to play when players are divided into Bowser vs. Team Mario. Bowser only uses the GamePad, and there are things only Bowser can see on the screen, such as the ability to shoot fireballs if you breath into the microphone. But I wanted other twists, like using Bowser Jr. Using amiibo is also very fun and quite unique, and it's great to have another gimmick with the amiibo.

Reviewer 4 – 9

Sometimes it's cooperative, and sometimes it's competitive. That's the usual case for this. There's some great action, good quality mini-games, and then there's the big Bowser Party, where you can play as the villain and cause havoc. Because of the various play types, this is probably the best Party game in the lineup. If you're needing something to play on your Wii U, I can be said that this is a perfect fit.
Mario Party 10 launches on March 20. More reviews should be dropping in before the game arrives.
Leave a Reply