Famitsu's Super Smash Bros. 3DS review translated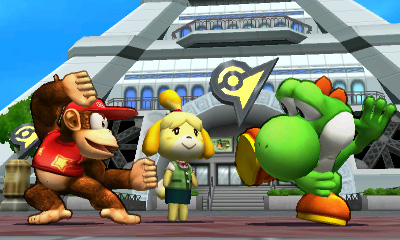 This week's issue of Famitsu contains the first review of Super Smash Bros. for 3DS. While the magazine is sometimes questioned for the scores it hands out, it's still interesting to check out what Famitsu says from time to time.
We now have a complete translation of the Smash Bros. 3DS review. If you're curious as to what was said about the game, continue on below.
Reviewer 1 – 10

Although the controls are simple, players can express individuality in battles and the characteristics of the series are executed with the polish you'd expect. Even the small screens of 3DS are no problem, and it is easy to play from your field only. Special attack and Mii Fighter customization systems are also simple yet well crafted, and you can go to great lengths at the thorough optimization. Multiplayer battles are of course thrilling fun, but single-player modes are also admirably perfect.

Reviewer 2 – 9

If there are four characters fighting all over the small screen, it in some cases it is hard to keep up with situations, but there are things like emphasized outlines for characters that make it surprisingly easy to see what's going on. It is interesting that character customization allows you to fight with battle strategies that are to your liking. Even though you can clear a mode in a short time, individual characters and many collectibles make it fun to replay. Since it is a Smash Bros. game that you can play anywhere you like, it is pleasant like none other.

Reviewer 3 – 9

This is a fighting game that you can fall in love with regardless of whether you are skilled or not and whether you know the references or not, isn't it? You can sense the passion and heart that is put into this game from the impressive balance that consists of things like being simple and clear yet deep, characters' strengths and weaknesses, technical stages and elements that turn the tide of a fight suddenly. Since 3DS is connected to the world, this game offers a new proposal of bringing it with you wherever you go and basically any place becomes "your room". As this is a game that has high attractiveness in a living room, my expectations for the Wii U version have risen.

Reviewer 4 – 9

When characters with greatly varying sizes and feels of control meet at the same battle, it is an interpersonal experience. The character customization is unique since due to balancing of the system, it is hard to do simply powerful combinations as you have to accept some weaknesses and adjust your playstyle accordingly. The player can try out various ways to play and be broad-minded, and enjoy things like feeling the exhilarating of smash attacks while tackling action puzzles or viewing collected figures from various angles.
Leave a Reply