Farming adventure game Deiland: Pocket Planet Edition coming to Switch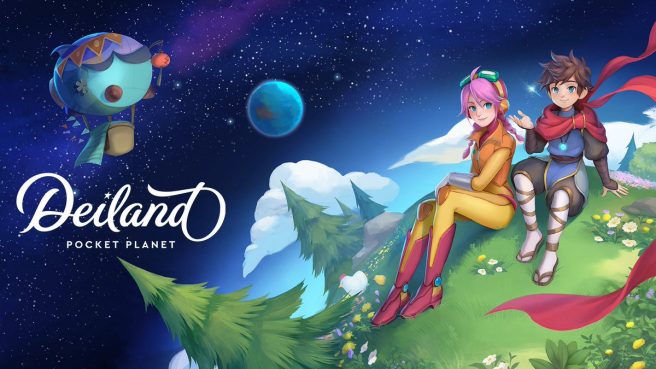 Summer in Mara developer Chibig Studio opened a Kickstarter yesterday for Deiland: Pocket Planet Edition, a redone version of its farming adventure game. Having reached its €10,000 goal, the game has been secured for Switch.
Deiland originally released in 2018. For the new Pocket Planet Edition on Switch, fans can expect new content, all DLC included, and graphical/gameplay improvements.
Here's some additional details plus a trailer:
Deiland: Pocket Planet Edition is a farming adventure where you will have to take care of your tiny planet. Farm, craft, fight and explore the universe of Deiland in this adventure with exclusive content for Nintendo Switch.

Discover the story of Arco in this single-player experience, a tale about growing up, helping others and revealing the secrets that lie on the heart of your planet. We've crafted a relaxing game, with a strong narrative and a cast of diverse characters for you to meet.

The game draws inspiration from other great titles like Harvest Moon and Stardew Valley. As you can imagine already, it's heavily inspired by Antoine de Saint-Exupéry's novella "The Little Prince".

Deiland: Pocket Planet Edition is a reimagination of Deiland, which was our first game for PS4 and PC. Includes all new looks, new music, new playability and exclusive DLC content. On top of all of this, Pocket Planet Edition includes a new seasons system.

New Features

– Season System: With Spring, Summer, Autumn and Winter, the whole game changes.
– New content, recipes, structures and crops.
– All DLCs already launched on PC, for the first time on a console for free.
– Graphics and gameplay improvements.
– New music themes, exclusive for the Pocket Planet Edition.
With a month remaining in the campaign, there's more than enough time to contribute to Deiland: Pocket Planet Edition on Kickstarter. Those that are interested can do so here.
Leave a Reply