Fast-paced platformer Rooftop Renegade coming to Switch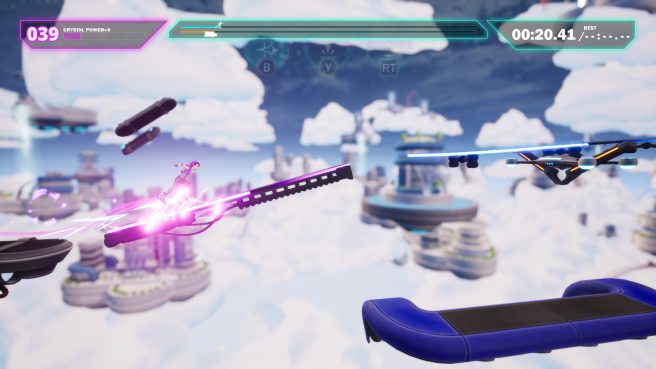 Melonhead Games will release its upcoming project Rooftop Renegade on Switch, the studio has announced. A release is planned for Q3 2023.
Here's an overview with more information:
Rooftop Renegade puts you in the Chrono-Kicks of Svetlana, a hoverblading outlaw on the run from the evil Globacorp. With the ability to portal through time, Svetlana sets out to brave Globacorp's attack squad as she steals as many scattered time crystals as possible.

BOOST, GRIND and WARP through challenge levels to test your mettle and feel like the ultimate speedrunner.

Key Features:

– FAST AND FLUID GAMEPLAY: Platforming with powerful abilities and precise control!
– TAKE ON GLOBACORP: Race through challenge & generator modes or blast your buddies in 1 vs 3 local multiplayer!
– DYNAMIC WORLDS: Distinct locations with dangerous hazards and unique ways to move!
– CHALLENGE LEVELS: Specially designed levels to get you evading Globacorp like a pro.
– LEVEL GENERATOR: Remix new level combinations with seed-based generator mode.
– PARTY MODE: Don the helmets of Globacorp's best troops and take on your buddies in up to four player local multiplayer. Make the best run, then shut down your rivals. Everybody runs, everybody guns.
– LACE UP THE CHRONO-KICKS: With multiple loadouts for both Renegades and Globacorp and varied worlds to master, there's plenty of ways to get your kicks!
Have a look at a trailer for Rooftop Renegade below.
Source: Melonhead Games PR
Leave a Reply