FoodBall coming to Switch in Q3 2020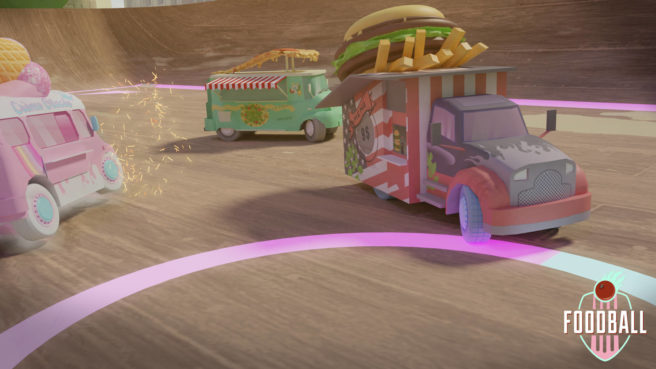 Publisher Gaming Factory and developer Cat-astrophe Games today announced FoodBall, a mixture of sports, racing, and food. A release is planned for Q3 2020 on Switch.
Here's an overview of FoodBall, along with a trailer:
FoodBall combines a sports game with car racing. The gameplay is based on principles similar to soccer – the ball is replaced with, e.g. a tomato and instead of players will food trucks compete. The developers are preparing 3D graphics in pastel colors and an overhead view (isometric view).

The story mode tells the stories of food truck owners who try to revolutionize the culinary world. Each of the 8 basic characters will have their specific and eccentric machine, unique recipes and skills (e.g. acceleration, freezing opponents and setting culinary traps). The creators emphasize that in practice playing each character will be a unique experience, and the right choice can have a decisive impact on the match.

As Paweł Wojciechowicz explains, FoodBall will also offer a differentiated pitches located in different parts of the world in which there will be plenty of random events and specific obstacles. You will also be able to significantly change the appearance of the vehicles.

FoodBall – main features:

– The unique combination of sport, racing and food;
– Crazy and unpredictable gameplay;
– 8 characters/vehicles with unique skills;
– Local multiplayer mode (2 to 4 players);
– Pastel graphic design;
– Tournaments and expanded story mode;
– Numerous objects that change the appearance of the vehicles;
– Easy to play, hard to master.
Source: Gaming Factory PR
Leave a Reply