Fury Unleashed update adds Crypt of the NecroDancer and Superhot guest appearances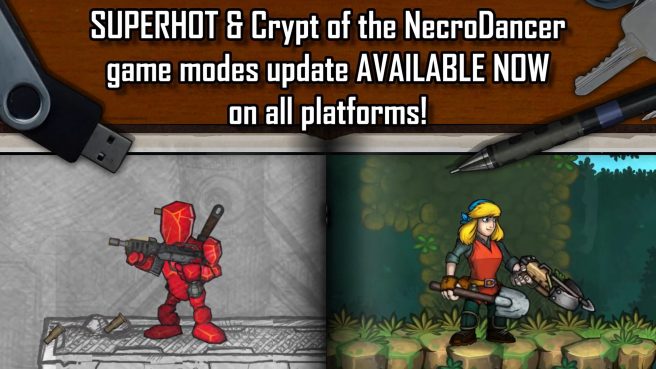 Awesome Games Studio's comic-book roguelite Fury Unleashed has received a major update. It's highlighted by two new guest appearance game modes: Crypt of the NecroDancer and Superhot.
Here's the full rundown:
"Crypt of the NecroDancer" lets players play the role of Cadence, the hero of the original game. Armed with a trusted shovel and a deadly crossbow, she waltzes through the game's diverse environments, shooting bad guys to the rhythm of the music. The tempo of the music tracks varies level to level, culminating within main boss arenas in which players have to stay true to the rhythm to survive.

"Superhot" turns around the ingame rules, making time stop when the hero doesn't move and flow when they do. That doesn't mean the game's easy though, as the player can survive just one hit before starting over – except that, with the help of Fury Unleashed's original combo system – they can be awarded additional damage shields based on how well they dispose of their enemies.
Today's update also includes a save and quit feature, quality of life changes (such as UI scaling), additional language support (Brazilian-Portuguese, Japanese, Korean), balance improvements, and bug fixes. In the future, there are plans to implement an online co-op feature.
Source: Awesome Games Studio PR
Leave a Reply