Futuristic, physics-based bike racer Gravity Rider Zero releases on Switch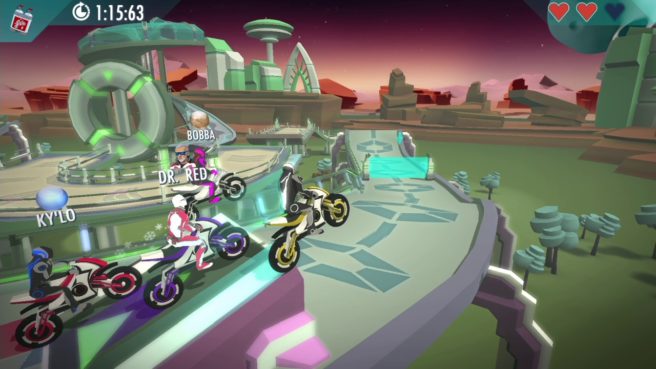 The futuristic, physics-based bike racer Gravity Rider Zero is now available on Switch, publisher QubicGames and developer Vivid Games have announced. It can be found on the eShop as a digital download.
We have the following overview and trailer for Gravity Rider Zero:
In Gravity Rider Zero, you will be climbing over obstacles, discovering trials to overcome in each level. Giant ramps, lasers, spikes, or good old gravity will try to get in your way.

Enjoy a classic solo career progression system: after 3 trails you move onto the next stage. Each of them introduces a new gimmick and every planet has a unique environment!

Collect dozens of unique racing vehicles with futuristic designs. Unlock new bikes by completing tasks, beating challenges or breaking track records: there's always a new reward to look forward to! From trials bikes to ATVs, WW2 era motorbikes to space rockets, they're all in there. You can customize your vehicle collection too. Give your motorbike a new paint job or upgrade your kart with a neon lights trail – upgrade your style!

The controls in Gravity Rider Zero are simple and precise. Accelerate and tilt your bike in the right places to pass over obstacles faster. Brake in time to avoid traps. Always tilt after a jump to touch the ground earlier and gain more traction. Brake before a jump to minimize your air time, try and try again. Or, just focus on making sure you pass obstacles, don't crash and beat the level.
Pricing for Gravity Rider Zero is set at $6.99, though it's down to $1.39 currently until May 31 for those who own any titles developed by Vivid Games (Space Pioneer, Sheep Patrol, and Pocket Mini Golf) and also owners of Robonauts and Geki Yaba Runner.
Source: QubicGames PR
Leave a Reply