GameStop hosting Marshadow distribution for Pokemon Sun/Moon in October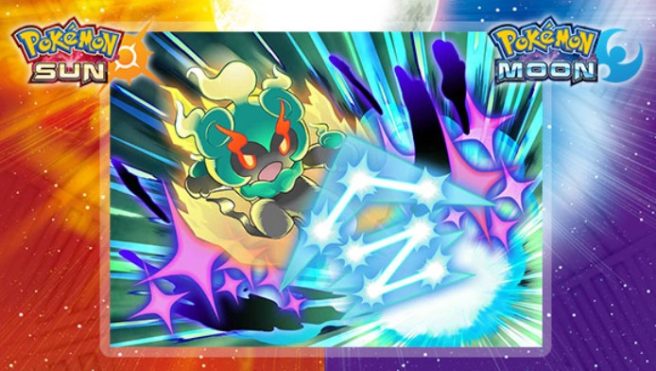 A new Pokemon Sun/Moon distribution has been confirmed. In October, GameStop will be handing out codes for Marshadow.
Marshadow will be at level 50 with the Marshadium Z item. It'll know the moves Spectral Thief, Close Combat, Force Palm, and Shadow Ball.
Here's the rundown of Marshadow's distribution:
The Mythical Pokémon Marshadow is coming to your Pokémon Sun or Pokémon Moon game with a code available at GameStop.

The mysterious Marshadow will soon be able to step out from the shadows and into your Pokémon Sun or Pokémon Moon game. To get the newly discovered Mythical Pokémon, stop by your local participating GameStop store from October 9–23 and pick up a code that will unlock Marshadow in your game.

As the only known Fighting- and Ghost-type Pokémon, Marshadow brings a unique twist to battle. When it unleashes an attack, its body turns green thanks to its burning fighting spirit. The Pokémon you'll receive is ready for action with its signature Spectral Thief attack, which not only does damage but steals the stat boosts of its target. The power of the Marshadow you can get at GameStop doesn't stop there—it also comes holding its special Z-Crystal Marshadium Z, allowing it to strike hard with its signature Soul-Stealing 7-Star Strike Z-Move!
The Marshadow distribution will be held at GameStop between October 9 and October 23. For those in Europe, the Pokemon will be available at "select retailers" between October 1 and November 16.
Leave a Reply