Ganso Minna de Spelunker coming to Switch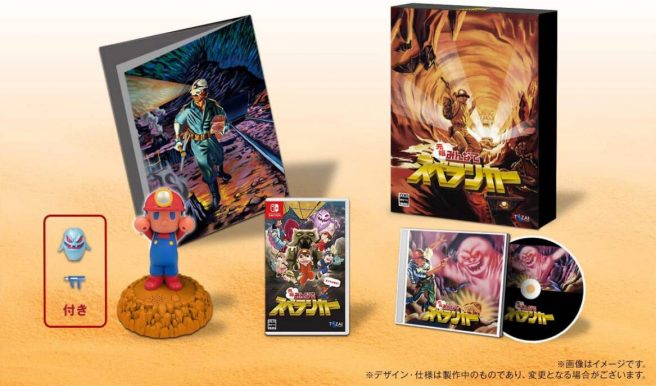 According to retail listings, Tozai Games will be bringing Ganso Minna de Spelunker to Switch. The game launches on July 15 in Japan.
The main game will cost 3,300 yen. For 7,480 yen, fans can pick up a limited edition. It includes the soft vinyl figure (with sound), original soundtrack CD, and cave exploration guidebook with maps of every stage.
Here's an overview of Ganso Minna de Spelunker, courtesy of Gematsu:
Spelunker HD returns!

Spelunker HD, which was released for PlayStation 3 in 2009 and won the PlayStation Store Special Award at the PlayStation Awards that year, has been revived with a full remake on PlayStation 4 and Switch as Ganso Minna de Spelunker.

Ganso Minna de Spelunker is an action game in which the cave explorer Spelunker, said to be "the weakest chracter in video game history," explores caves full of mystery. With 100 stages consisting of abandoned mines, underground lakes, ancient ruins, glaciers, and more, Spelunker's goal is to reach the depths of each cave.

Caves are full of dangers including natural terrain, cave creatures, and malicious traps—and enemies and traps that appear to be traces of an unknown civilization will appear in the latter half of the cavern. Spelunker must overcome these obstacles by properly utilizing items such as bombs, flares, portable fans, and more, as well as his jump technique.

But be cautious, as Spelunker is quite weak! If you fall from your own height, or get hit by bat poop, you will die. Spelunker's weakness, or his "fragile constitution," gives the game a moderate sense of tension and rhythm, making it more interesting as an action game.

Key Features

Single-Player, Plus Offline and Online Multiplayer – One of the main features of Ganso Minna de Spelunker is that it supports up to four players offline and up to six players online. You can of course try to clear the caves on your own, but you can also enjoy the excitement of multiplayer by playing with family and friends locally, or with other players around the world. Bask in the sight of Spelunkers dying all over the place in multiplayer.
All Sorts of Game Modes from Cooperative to Competitive and More; New Game Modes, Too – Explore the vast caves made up of 100 stages in "Adventure Mode"; compete against each other to reach the goal in dedicated stages in "Minna de Compete Mode"; attempt to clear 100 extremely difficult stages in "Championship Mode"; and more. Additionally, in the new "Infinite Cave NEO" mode, Spelunkers must hurry their way down as the randomly generated stage forcefully scrolls downward. This is a unique new game mode, as the stages are different each time and alway feel new. All game modes can be played offline and online.
Switch Between Updated 3D Graphics and Nostalgic Famicom-Style Graphics Modes – The graphics of Ganso Minna de Spelunker have been created anew in 3D and are further evolved from the PlayStation 3 game. But you can also switch to "Classic Mode," which features graphics in the style of the 1983-released Famicom game and 8-bit sounds. This is compatible with all game modes.
For All Spelunker Fans – From the 1983-released Famicom original, to Spelunker HD for PlayStation 3, Spelunker World for PlayStation 4 and PS Vita, and Spelunker Party! for Switch, the Spelunker series has amassed over a million players in Japan alone. After requests from many users to revive the game for modern platforms, including users who played the now-ended service-based Spelunker World, we are putting everything we have into Ganzo Minna de Spelunker to meet the expectations of existing fans, as well as first-time players.
Leave a Reply