Garden Story update out now on Switch (version 1.0.6), patch notes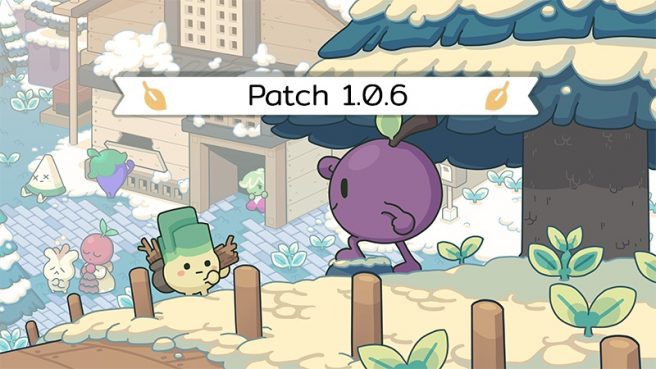 Rose City Games and Rose City Games have gone live with a new 1.0.6 update for Garden Story. A few additions, adjustments, and fixes are included – note to mention a new Switch home menu icon.
Below are the full patch notes:
Fixed sequence break and soft lock where Concord could avoid bridge repair in the Rana tutorial.
Fixed sequence break where Concord could slip past the Waterlog guards.
Added visual indicator for where to trigger endgame sequence. Currently exploring other possible sequence issues in this area.
Fixed soft lock where Concord could get trapped in the Mists
Added item names to Village Storage Box.
Cube Coast is now labelled properly on the map.
Updated credits.
Unobtainable items have been removed, enabling Library and Dowsing Rod upgrade completion.
Fixed bug where Pagu's favor could override the dowsing rod quest step
Fixed bug where favor completion could clear building plots
Fixed bug where roll boots could interrupt dowsing minigames
Fixed various visual bugs
Fixed Waterlog puzzle gate collisions
Added consistency to "Bloom Bank" area name
Minor audio adjustments
Created additional protections for the issue blocking some players from triggering the end game sequence.
Added collectible to unlock final memory slot
Fixed soft lock where endgame sequence in would not fire
Fixed soft lock where Concord could perish while exiting a dungeon
Fixed soft lock where Concord could get trapped in Ollie's shop
Fixed soft lock where Rapa would not address Concord when arriving in at night
Fixed bug where the player could plant seeds without owning them
Fixed various visual bugs
Reenabled missing book in library
Various spelling and wording adjustments
Garden Story is currently available for Switch via the eShop. It was made available as part of the latest Indie World Showcase in August.
We'll keep you informed if Garden Story receives any additional updates beyond version 1.0.6.
Leave a Reply