Gotcha Racing 2nd out on the Japanese Switch eShop next week, details and trailer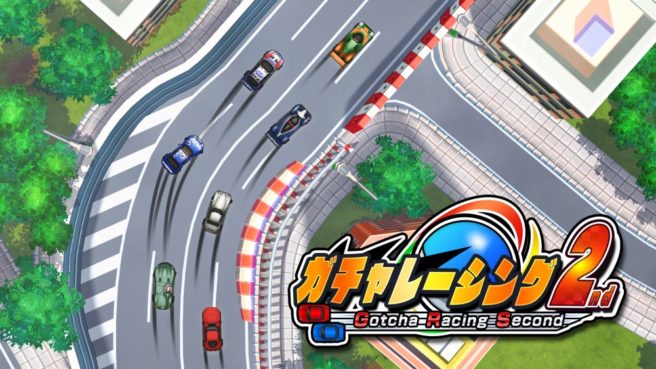 Update (3/22): Gotcha Racing 2nd is now confirmed for March 29 in North America as well.
---
Original (3/21): Gotcha Racing 2nd was recently outed by a rating from Taiwan. A listing has since appeared on the Japanese eShop, confirming a Japanese release date of March 29. We also have first details.
The general premise is that Gotcha Racing 2nd is a racing game with a birds-eye view where players use machines customized with parts obtained from rolling gacha. There are around 700 types of parts appearing here. Prize money can be used to roll the gacha and customize your machine to be even more powerful. Surplus parts can also be compounded to strengthen your machine, so you can make your own original machine.
Victory is determined not only by machine specs, but also by machine actions like transformations, super boosts, barriers, and obstacles.
Game modes are as follows:
Grand Prix
– Loop through gachas and races, and win the Grand Prix
– The objective is to win multiple Grand Prix which are graded from A to F
– The higher the grade, the more powerful the parts you can get from the gacha
Time Attack
– Compete for better times on a course
– In addition to the normal Time Attack, there is also an Event Time Attack where you can obtain special parts
– The time is registered to an online leaderboard so you can compete with rivals worldwide
VS Mode
– You can bring controllers and and enjoy races between 2-4 people
– As long as you have a Switch console and the controllers, you can enjoy exciting versus mode anywhere
Mini-Games
– 1. Mini GP Race, where the circuit course fits on the screen and the controls are different from usual
– 2. Car Battle, where you are placed in a square stage and can use Spin Attack to push other cars from the stage
You can watch a trailer for Gotcha Racing 2nd below.
Note that Gotcha Racing 2nd will support various languages, including English. That's a strong sign that it'll be out around the same time in different regions.
Source: Switch eShop
Leave a Reply