GrimGrimoire OnceMore announced for Switch, remaster of 2007 original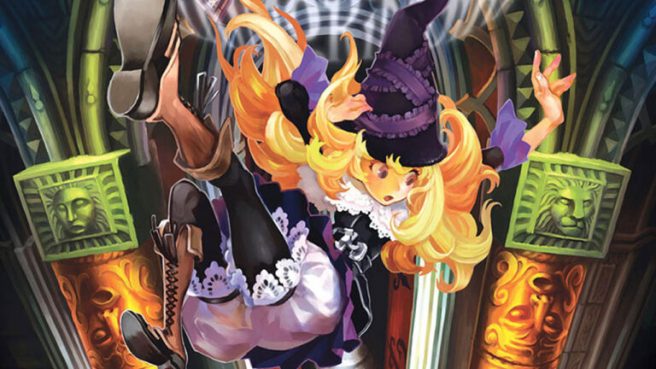 Publisher Nippon Ichi Software and developer Vanillaware have revealed in the latest issue of Weekly Famitsu that GrimGrimoire OnceMore, a remaster of the original 2007 GrimGrimoire, will be comin to Switch in Japan July 28.
GrimGrimoire was a 2D real-time strategy game developed by Vanillaware that originally released on PS2 back in 2007. It had you take the role of apprentice witch Lillet Blan as she experiences a 5-day time loop whose mystery she has to unravel, all while defending herself and her school from hordes of magical enemies.
As part of the remaster, the game will feature a number of new features, namely:
New System: "Great Magic" – Four types of "Great Magic" that can be used during battle have been implemented. Activated with newly illustrated cut-ins.
High-resolution graphics and widescreen aspect ratio.
"Fast-Forward" function for battle and story parts.
"Mid-Battle Save" function for battle parts.
The difficulty level of "Hard" mode has been adjusted to be more challenging than the original version.
New System: Skill Tree – Earn coins by completing tasks set for each stage. Coins can be used to strengthen familars. Coins can also be refunded.
Gallery Mode – Enjoy various illustrations.
New voice cast:

Lillet Blan (voiced by Iori Saeki)
Margarita Surprise (voiced by Miharu Hanai)
Gammel Dore (voiced by Miharu Hanai)
Advocat (voiced by Hiromichi Tezuka)
Although the game has only been announced for Japan so far, it's worth noting that the original GrimGrimoire did release in North America and Europe as well. Additionally, Vanillaware has tended to release most of its titles worldwide, such as the recent 13 Sentinels: Aegis Rim release for Switch (which you can check out our review for here). So in all likelihood, it shouldn't be too long before we hear of a western localization.
Courtesy to Gematsu for the original translation.
Leave a Reply