GRIP: Combat Racing reveals more of its music and collector's edition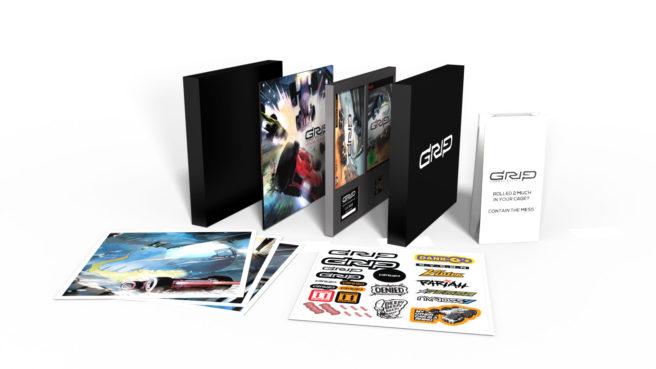 Wired Productions announced today that the London-based independent record label, Hospital Records, are contributing tracks to the futuristic arcade combat racer GRIP. The following songs will be included in the title:
– Battery x Makoto "Submerge"
– Krakota x Urbandawn "Coyote"
– Inja x Pete Cannon "War Games" (Instrumental)
– Krakota "Citadels"
– Royalston "Diorama"
– Rawtekk "Restless"
– Whiney "Sunday Grunge"
– Whiney "Talisman"
– Lynx "Clap Track"
Aside from what Hospital Records is offering, this music will also be included:
– Entita "Can't Wait"
– Full Kontakt "Cyborg"
– Full Kontakt "BlackOut"
– Full Kontakt "Clock Watch"
– Full Kontakt "Power Train"
– Full Kontact "The Creeper"
– Imperium "Cerbera"
– Kevin Green Lee "GRIP"
– Mart-E "Boost Empire"
– Pragmatic "Going Down"
– Revaux "Solidify"
– Silence Groove "Reconnect"
– Xtigma "Crash City"
Wired Productions has also revealed a collector's edition for GRIP. There will only be 500 numbered units produced and only 300 made for general sale. It will be sold on the company's website here.
The GRIP: Combat Racing Collector's Edition includes:
– GRIP: Combat Racing video game
– Double Vinyl + CD Soundtrack + MP3 Download key
– 3 x 12" double-sided art prints
– Classic Game Manual & Lorebook
– GRIP USB Drive
– Exclusive DLC (Nyvoss Hex Paint Kit, Vortex Rims and Vehicle Decals)
– GRIP Sick Bag
– Vehicle Decals
– Numbered card of authenticity
Source: Wired Productions PR
Leave a Reply