Heart Forth, Alicia announced for Switch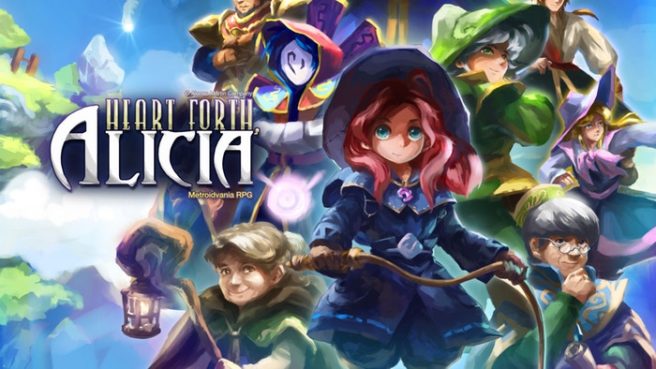 Heart Forth, Alicia is a game that we first posted about way back in 2014. The project was a Kickstarter success story and was originally planned for Wii U. Unsurprisingly, the Metroidvania RPG is no longer coming to that console, but is now confirmed for Switch.
Those who pledged for a Wii U key will now automatically receive a Switch key in its place. As for those who pledged for $5 console key add-ons, they "can still change their console preference through their their Backer's Club profile page."
Here's some additional information about Heart Forth, Alicia as well as a trailer:
Heart Forth, Alicia is a Metroidvania RPG about a young wizard pursued by a terror in the sky.

On the night of your coming of age trial, the sky rains fire over your village, scorching everything in its path. Soon, you're catapulted into an ongoing war between the wizards of the forest and the desert army of the West. Desperate to reunite with your loved ones, you embark on a journey across the landscapes of a beautiful but threatening world, sculpted by the pulsing violence of its past.

At this game's core is an ode to the classics. Remember the electrifying gameplay of Castlevania: Symphony of the Night, the devious dungeons of the Zelda series, and the rich, more serious narrative of Xenogears or Final Fantasy Tactics?

Heart Forth, Alicia brings a modern take on a beloved genre, combining the tight gameplay from the classic action platformers with an epic and serious narrative akin to the iconic '90s RPGs.

Features
– Engage in fast and agile melee combat with your whip and a varied library of upgrades and mobility skills.
– Master devastating magic spells to annihilate your enemies, solve creative puzzles and overcome devious obstacles.
– Play with powerful classic RPG elements that provide players with all the gear, sidequests and gameplay of a quintessential RPG experience.
– Adventure across the game's many vast regions and treacherous dungeons to gather all their treasures, upgrades and secrets.
– Experience a rich, engaging and serious narrative akin to the iconic RPGs of the late '90s.
Leave a Reply