Heaven Dust Collection Switch physical release announced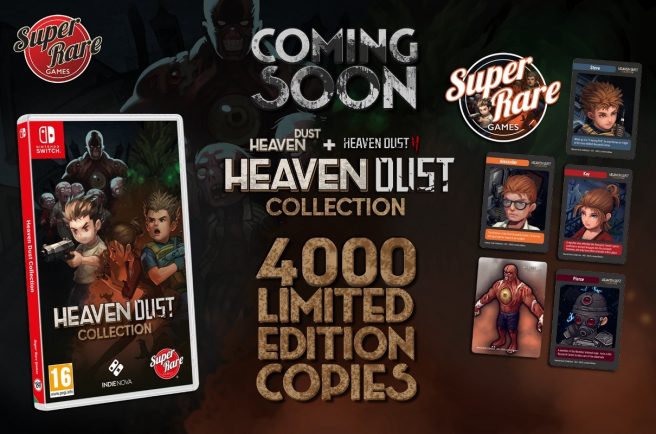 Super Rare Games has announced the Heaven Dust Collection, which combines two games in one for a new physical release on Switch. You'll be getting the original Heaven Dust and Heaven Dust 2 here.
4,000 copies will be produced. Each unit comes with both games on the cart, a full-color manual, interior artwork, an exclusive sticker, and trading cards.
An ode to 90s horror game series like Resident Evil, the Heaven Dust Collection takes the player through a classic survival horror experience, with plenty of exploration, action, puzzles to solve, and resource management.

Heaven Dust

In 1970, a scientific investigation team found a new virus in the blood samples from a primitive tribe called "Torkue" in New Guinea. Among some scientists, there is a belief that it will lead to the discovery of the secret of immortality, hence why they name the virus "Heaven Dust." Little did they know that it wasn't actually a gift from Heaven but would open the gates to Hell instead.

After the destruction of the research facility in New Guinea following an incident involving the mutant virus, "Heaven Dust" was brought to the US. Further research is being carried out by the subsidiary company StarDust.

But another disaster awaits…

The key art for Heaven Dust with the game logo on the left and the main playable character holding a gun on the right with hordes of zombies behind him.

Heaven Dust 2

A virus outbreak happens in the mysterious First Research Center after a press conference goes wrong. While the chaos unfolds, deep within the institute, Steve wakes up from his cryogenic pod. Rather than having a peaceful awakening, he finds himself trapped in a living hell, surrounded by zombies, once more. Can you fight your way out and discover the dreadful trust, Second Host?

Key Features

Playtime: Boasting around 15 hours of total playtime, with Heaven Dust 2 coming with twice the content of its predecessor.
Multiple endings: Both games come with multiple endings. Which one will you get?
Inventory management: Collect and combine, use various items to solve puzzles, with the sequel offering even more options for upgradability and strategic thinking.
Combat system (Heaven Dust 2 only): Fight your way out with a dagger, submachine gun, shotgun, and grenades. Modify your weapons, and upgrade them to the limit. Choose your weapon to counter different enemies, plan your strategy, seek their weak points, and destroy their defenses.
Enemy variety (Heaven Dust 2 only): Along with ordinary zombies, other mutated monstrosities have joined the battle: Heavily armored Bone Fiend, regenerating Blood Fiend, approaching boomlad, all without forgetting the epic boss fights.
Multiple difficulties (Heaven Dust 2 only): Players have the choice between Casual, Normal, and Expert difficulties, making the game something anyone can enjoy.
Pre-orders for the Heaven Dust Collection kick off on February 2 at 10 AM PT / 1 PM ET / 6 PM in the UK / 7 PM in Europe. Super Rare Games will be taking reservations here.
Source: Super Rare Games PR
Leave a Reply