Here's a Podcast – Episode 106! (Dr. Mario)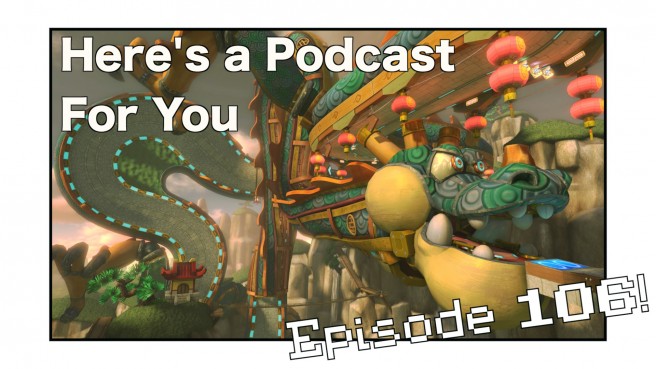 ---
Podcast Crew: Austin (Twitter), Jack (Twitter), Laura (Twitter)
Welcome to episode 106. How are you? I'm okay. I hope you're okay too. Here's an overview of what we'll be talking about on this episode:
Segment 1, What We Played: The only game we bring up during WWP is Mario Kart 8, and we talk about it for half an hour! Austin thinks he figured out specifically– down to the point by point game design elements– why he finds Mario Kart 8 less intense or engaging than other games in the franchise, and he tries to explain it to the rest of the crew as best as he can.
Segment 2, Book Club: After a lovely commissioned, professional-grade audio clip about our book club, we delve (perhaps TOO deeply) into the first chunk of The Legend of Zelda: A Link to the Past. Does this game feel less unique than other Zeldas? How does it feel having such a speedy intro without a lot of setup? What's special about this game? We answer these questions and more!
Segment 3, Listener Mail: Plenty of listener mail to go through this week including a grill session about Monster Hunter 4, a grill session about Jack saying he wishes Wii VC would stretch the old games to fit his TV, lots of nice words, and much more.
---
Download this episode (click this link)
Subscribe via iTunes by clicking this thing!
Subscribe with Google by clicking this thing!
Subscribe with Yahoo something-or-other by clicking this thing!
Leave a Reply