Here's a Podcast – Episode 108! (NES Play Action Football)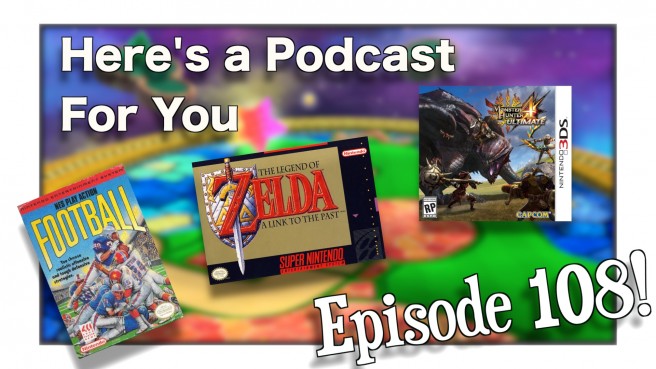 ---
Podcast Crew: Austin (Twitter), Jack (Twitter), Laura (Twitter)
Welcome to episode 106 I mean episode 108. How are you? I'm okay. I hope you're okay too. Here's an overview of what we'll be talking about on this episode:
Segment 1, Intro: Our game of the week is the Tose-developed NES Play Action Football. We learn about Tose's development philosophy, why this game came with a little slip of cardboard, and how it's connected to Shrek: Hassle at the Castle for GBA.
Segment 2, What We Played: Two big games in what we played this week. Firstly, Austin has his review copy of Monster Hunter 4 Ultimate and he has some really interesting observations about how the game actually teaches you this time around, in addition to general impressions. Laura this week has been playing something of an oddity: Mario Golf: World Tour, the 3DS golf game from last year that nobody would've predicted Laura would love. But she does!
Segment 3, Book Club: This week's A Link to the Past exposé has us getting into discussing the start contrast between the second and third temples of the game, how we all learned to pick up large boulders, and why getting the master sword in this one is actually somewhat different from more recent Zeldas.
Segment 4, Listener Mail: Just a bit of mail this week (we didn't have much time after the book club), but we tackle a couple of key topics: Where is Nintendo going after Miyamoto and company pass on from the company (or life, I guess)? What are some of your favorite local multiplayer games? Find out.
---
Download this episode (click this link)
Subscribe via iTunes by clicking this thing!
Subscribe with Google by clicking this thing!
Subscribe with Yahoo something-or-other by clicking this thing!
Leave a Reply