Hiragana Pixel Party out on Switch this week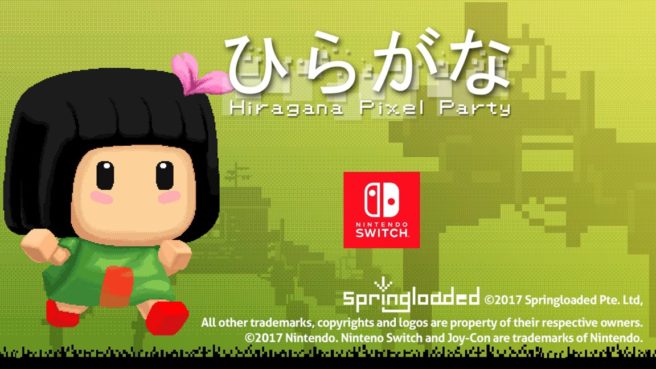 Have you ever wanted to learn how to read hiragana and katakana from the Japanese writing system? Springloaded's latest Switch game Hiragana Pixel Party will let you do just that. It's slated for December 16 in North America and Europe.
Hiragana Pixel Party is a chiptune-based game that teaches you to read hiragana and katakana. The title features new graphics, more levels, and more music on Switch.
For more information about Hiragana Pixel Party, continue on below. We have a trailer for you as well.
A chiptune rhythm-action game that also teaches you something!

Learn to read Japanese Hiragana and Katakana characters in a fun chiptune adventure! Not just for people who want to learn Japanese, this is a game anyone can enjoy.

Progress through 16 different worlds remembering patterns and repeating them in time to an all-original chip music soundtrack! Learn how to recognise the shapes and sounds of each symbol in the Hiragana and Katakana syllabaries. Learn them all and be able to easily read and pronounce Japanese words!

Hiragana Pixel Party does not teach words or phrases, but teaches how to recognise characters and read them out as words.

– 16 different worlds and themes
– 208 characters
– 192 missions for each syllabary
– Five gameplay types that challenge you in different ways
– All-original score
Leave a Reply