Hollow Knight Switch status update, new DLC pack will be included at launch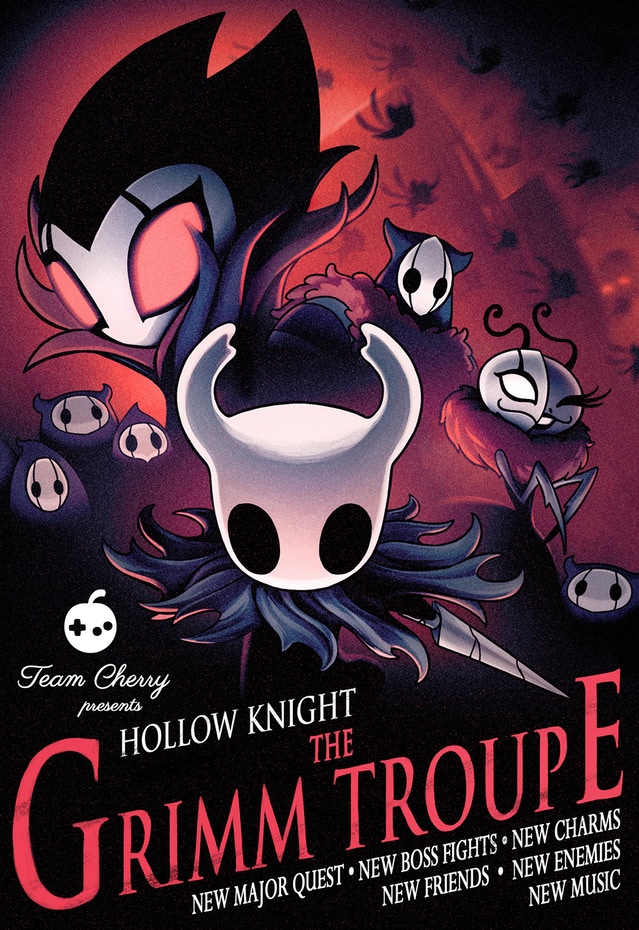 Team Cherry shared some news about Hollow Knight today. Among other things, we have a status update about the Switch version and new DLC.
Team Cherry is currently wrapping up The Grimm Troupe for Hollow Knight, featuring a new quest, boss fights, and four new charms.
The full details are as follows:
New Major Quest – Light the Nightmare Lantern and summon the Grimm Troupe to Hallownest, if you dare! Take part in a twisted ritual that stretches the breadth of the kingdom and bestows the player with a powerful new ally.

New Boss Fights – What epic quest is complete without epic show-downs? Get ready to face off against a dark new foe and a twisted scarlet spectre. Who are they? What brings them to Hallownest? We won't spoil the surprise!

4 New Charms – We're going all out with the quest, but that's not enough! Your charm range is also expanding, granting unique new aids and abilities. You'll have to discover their powers for yourself, but their appearance may give a few hints.
Here's a trailer as well:
We also have a status update for the Switch version of Hollow Knight:
So many of you are eager for Switch news, and we want so badly to drop that release date, but we can't do it quite yet!

As agonising as that is, we can say that things are pulling together (frame-rate is getting the thumbs up!), but there're still a few more hurdles to clear before we can give you a release date that we're 100% confident we'll hit.

As stretched we are across everything at once (Content Packs + Backer Rewards + Porting + Support = Intense!), we really appreciate all the excitement for the Switch version. We just want to ensure it's as great as it can be when it lands in your hands.

And of course, The Grimm Troupe will be included in Hollow Knight's Switch version at launch. Cheers for being patient with us and keeping up the energy!
Leave a Reply