Holstin, psychological horror survival game, planned for Switch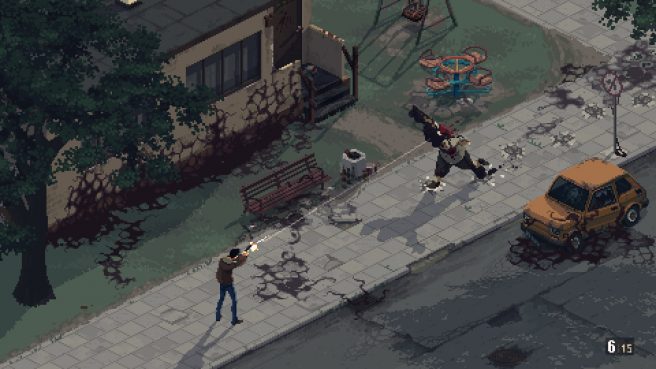 Sonka has announced that it is developing Holstin for Switch and other platforms. The psychological horror survival game does not have a release window at this time.
The project, which takes inspiration from Resident Evil and Silent Hill, has a narrative that's "aiming for a darker Twin Peaks feel." More information can be found in the following overview:
Late November 1992. A small, isolated town in eastern Poland is struck by a foul calamity that slowly begins to consume everyone and everything it touches. This is the last known whereabouts of your friend Bartek before he stopped answering your calls. Now, you need to follow in his footsteps to uncover what brought him to this town in the first place and why he possibly couldn't ever get out.

Something is very wrong in the town of Jeziorne-Kolonia. Explore an eerie, isolated 90's Polish town that has been consumed by something wretched. The streets are overrun by some kind of filthy slime. The people, the buildings, and the wildlife all seem to be slowly deteriorating from the inside. You need to find your lost friend and get out before this town sinks its claws into you too.

Scavenge for scarce supplies and weapons to fight off the twisted monstrosities now roaming the darkest corners of the town. You're no hero, but your will to live is still strong enough to get through this living nightmare.

Some questions or puzzles can only be answered by the locals. But they are seldom helpful to outsiders. If you want to understand them, you have to play along with their delusions and understand their inner world. Those still conscious in this void of a town seem like they are suspended between life and death. Their isolated minds slowly edging towards insanity and some of your questions are really starting to get on their shattered nerves…

Our custom in-house technology allows us to bring a new spin on the pixel look. Hand-drawn pixel-art environments now brought to life with dynamic lighting and camera rotation letting you explore the world from eight different angles. Just don't let those shadows play tricks on your mind.

Holstin is fully voiced in both Polish and English. Experience chillingly manic performances that will bring you closer to a slew of deranged characters who have long lost touch with reality.
View a trailer for Holstin below.
Those interested in getting a closer look at the game can try out a demo on Steam, which provides a look at the game's art, puzzles, character design as well as the first playable look at Sonka's 2XD Rendering technology which allows the team to create real time lighting and a 3D camera in pixel-art environments.
Source: Sonka PR
Leave a Reply