[Interview] 5th Cell talks about Scribblenauts: Unmasked! Hear why they decided to include 33 'Batman' variations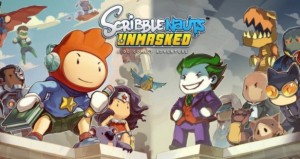 ---
We talked to 5th Cell's Caleb Arseneaux about their newest installment in the Scribblenauts series and they helped us "Unmask" some of the answers we were dying to know.
---
Author: Laura
Contributors: Brian, Austin
I had the privilege of talking with 5th Cell about their awesome new Scribblnauts installment coming out in 3 days. For any DC fanatic, like myself, Scribblenauts Unmasked: A DC Comics Adventure has us manipulating our favorite characters in our favorite worlds alongside the always lovable Maxwell. But where did this genius idea come from? Just how deep into the DC Universe does the game really go? Well, keep reading to find out!
---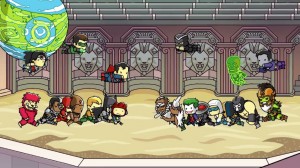 ---
Why DC? What was behind the decision to blend the Scribblenauts and DC Comics universes together?
"It really came down to how we could advance the game in a new way that would appeal to a new audience and our longtime Scribblenauts fans. The DC Comics Universe is so rich and full of unique and awesome characters we felt that the technology that brought the other Scribblenauts titles to life could be used to give DC Comics fans a great new way to interact with characters they love. This also provides an opportunity for our Scribblenauts fans to experience playing with real super hero characters that have powers, backstories and behaviors that they've never seen before."
Scribblenauts Unmasked includes over 2,000 characters from the DC Universe. Which were the most unusual/difficult characters to design? Which were the most enjoyable ones to design?
"There are about 137 different green lanterns in the game, and not all of them are human, or even bipedal like humans. There are some that are whole planets, or chipmunk-like animals or even one named "Dkrtzy RRR" which is a sentient math equation! This posed a big challenge for our artists to create an animate these characters so they fit in with the rest of the Scribblenauts world."
How was it determined which characters would/wouldn't be making the cut?
"We would evaluate the characters first based on how popular they were with fans and then if they would put our rating in jeopardy. Also we pride ourselves on having a vast majority of the DC Comics Super-Heroes and Super-Villains, however there are a number of civilian characters which we didn't include especially if they didn't make semi regular appearances in the comic books."
---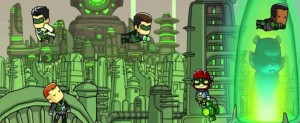 ---
Were there any particular challenges the team faced while developing the game?
"The biggest challenge was the schedule, which was really short for a game of this size but we really loved getting the levels and characters into the game because we knew fans were going to be really excited about it."
Why did you choose to include so many different versions of certain characters, such as 33 different Batmans?
"Because of the fans! Every time you put something into Maxwell's notebook you want it to appear, that is the magic that Scribblenauts has been delivering since the first game. We wanted to amaze not only our own Scribblenauts fans but also show the DC Comics fans that we actually cared about variations of their favorite characters."
Fans are looking forward to experimenting with the Hero Creator. How much have you played around with the functionality? Did you create any superheroes that you're particularly fond of?
"There are an untold number of combinations in that feature for the community to use. We added the functionality that allows players to add Super Powers to any creation they make. I'm really excited to see what our players are going to create!"
Tell us a bit about how you've incorporated the Wii U's features. Will off-TV play be supported?
"You can turn off your TV and still play the game on the Wii U GamePad. We've found the touch interaction on the GamePad essential to the Scribblenauts experience since it's through the player's touch that they interact with the thousands of objects in the game."
---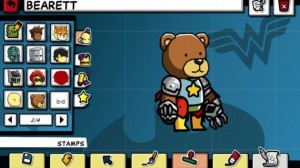 ---
Was development any easier on Wii U this time around? Were you able to apply experience gained from Unlimited in making Unmasked?
"Yes it was, we laid a lot of the groundwork for our engine with Scribblenauts Unlimited, so for this game we already had a head start on the platform and were able to devote a lot of time improving things during development."
Scribblenauts Unmasked is also coming to the 3DS. Can you speak about any differences between the two versions?
"3DS has a unique StreetPass feature which allows you to unlock special costumes for Maxwell when you use StreetPass. I won't give anything away, but these costumes give Maxwell super powers just like the characters in the game."
Would you personally be up for Scribblenauts Unmasked 2 with a Marvel Universe tie-in?
"I'm partial to DC Comics myself, and there are still a lot of worlds to explore in that universe!"
After combining DC Comics with Scribblenauts, where can the series go from here? Can you see the franchise continuing in any new directions, such as making changes to the core gameplay? To that end, do you have any ideas you'd like to see become a reality?
"Scribblenauts is incredibly rewarding to work on because of how much fans of the franchise enjoy the new directions we've been developing for it. We'll see what the future holds!"
Finally I have to ask: who is your favorite DC Character, be it villain or hero?
"Larfleeze is just a great character. He's the leader of the Orange Lantern Corps, and he's basically just a big greedy villain but adds a bit of humor into the cast of characters that's really fun to read."
---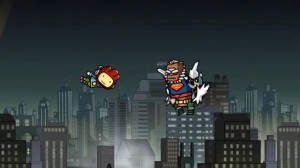 ---
Uh…what?
---
Thanks to 5th Cell for taking the time to answer all of our questions. Be on the look out for Scribblenauts Unmasked: A DC Comics Adventure out in North America on September 24th and in Europe TBA.
Leave a Reply