Jim Power: The Lost Dimension, platformer from the 90s, returning on Switch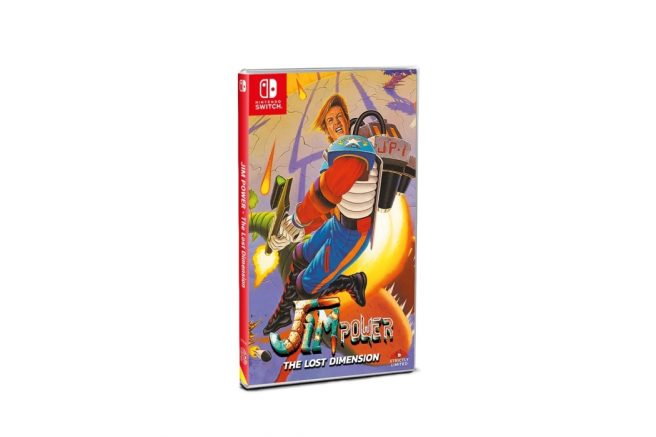 QUByte and Piko Interactive have revealed that they're bringing the 90s platformer Jim Power: The Lost Dimension to Switch.
The title originally came to the SNES in 1993. There was also a version of the game in the works for SEGA Genesis, though it never came to be. Last year, Piko Interactive ended up completing that version and also made a new edition for the NES.
Jim Power: The Lost Dimension for Switch will include these new SEGA Genesis and NES versions. Four screen filters and three screen types are also planned.
Below is some additional information:
The evil alien Vaprak is threatening to destroy the earth, which is the last planet that stands between it and the entry to the 5th dimension. If Vaprak succeeds, his species will flood the galaxy and all will be lost. It is up to Jim Power to infiltrate and slay the evil. Originally released in the '90s Jim Power was hailed for its outstanding graphics and challenging gameplay. Now Jim is back and ready to do it all over again.

Jim Power: The Lost Dimension on Nintendo Switch and PS4 includes the NES version of the game which has been developed from scratch by PIKO Interactive, and on top of that the SEGA Genesis version, which was supposed to be released back in the '90s, but was cancelled last minute. Now, fans of the retro shooter can enjoy the classic Genesis version on their modern home console for the first time!

The re-release of Jim Power: The Lost Dimension for PlayStation 4 and Nintendo Switch includes several features, that underline the spirit of the cult classic:

Single player side-scrolling action

Newly developed NES version

First time officially released Genesis version

Stellar pixel graphics and classic '90s gaming goodness

Soundtrack by video game music legend Chris Huelsbeck

Several unique stages

Run & Gun, Jetpack and Shoot 'em Up levels

16 Bit and an 8 Bit gameplay

4 screen filters and 3 screen types
And here's a trailer:
Jim Power: The Lost Dimension will be available as a physical release thanks to Strictly Limited Games. The company will open pre-orders on Sunday, May 29, at 12 AM CET. Copies will be available here.
Source: QUByte PR
Leave a Reply