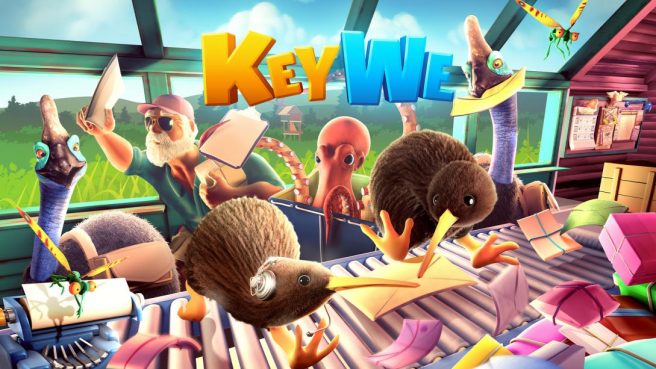 KeyWe was previously known to be on track for August, but we didn't have an actual date. Sold Out and Stonewheat & Sons have now confirmed that the postal puzzler is dropping on August 31.
Those who pre-order will receive access to the 'Early Bird Pack' at no additional cost. It includes the following content:
● Experimental Postal Pack Backwear – From the minds at Belby University, the Experimental Postal Pack is a multi-purpose marvel of modern engineering! When Jeff & Debra wear this groovy gizmo, they'll unlock new objectives to test its mysterious properties, like hunting magnetic disturbances, collecting static charges, or escaping hungry singularities, while still performing their postal duties, of course!

● Zuni the Baby Octopus Backwear – As precious as she is pink, Zuni the Baby Octopus would love nothing more than to ride along on Jeff and Debra's back as they perform their postal duties. She promises not to get ink on any of the envelopes.

● Cassowary Cowl Facewear – The Telepost cassowary delivery team are known for their speed, stamina, and stubbornness. They are not known for their observational skills. Disguise yourself as one with this wearable mask.

● Buck's Big Bushy Beard Facewear – Jeff and Debra's boss is Telepost station chief Buck Hamm, a jovial postman with years of experience and a very well-groomed beard. Fortunately, he also has a good sense of humor, so he'll probably appreciate the kiwis imitating his trademark look with this beard, moustache, hat, headset and glasses set.
Here's a new trailer for KeyWe:
Source: Sold Out PR
Leave a Reply