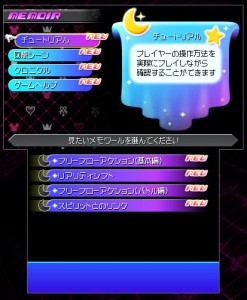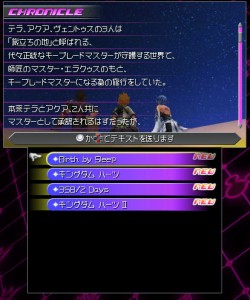 Square Enix's Kingdom Hearts blog has detailed some of 3D's "Memoir" menu functions.
The new information is as follows:
– Kingdom Hearts 3D has a "Memoir" menu
– This menu contains tutorial, game help, recollections, and chronicle options
– Tutorial: mini tutorials designed to teach the controls as you play
– Options include Free Flow Action, Reality Shift, Link with Spirit options
– Recollections: shows a look back at the happenings of the game
– Chronicle: shows a look back at all the past games in the series
– In Chronicle, you can see a summary of the stories of Birth By Sleep, Kingdom Hearts, 358/2 Days, etc.
– Pre-launch event on March 3
– Event will take place somewhere in Tokyo
You can find a couple of Memoir menu screenshots above.
Thanks to 4Him for the tip!
Leave a Reply