Kitsune Tails reveals voice cast in new trailer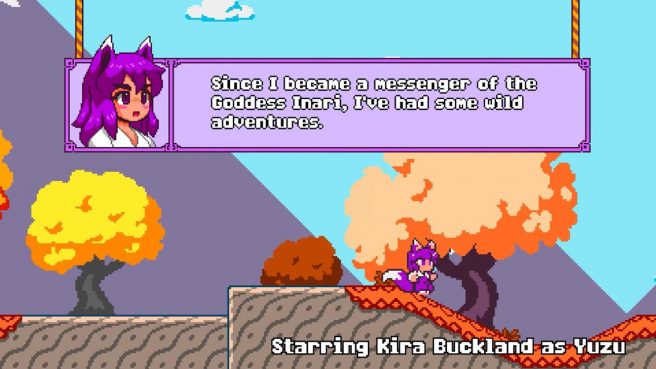 In a new trailer, Kitsune Games and MidBoss unveiled the voice cast for Kitsune Tails, the Japanese mythology-inspired platformer.
The lineup features Kira Buckland who voiced protagonist 2B in NieR: Automata, Falke in Street Fighter V, and Jolynne Cujoh in JoJo's Bizarre Adventure: Stone Ocean. Buckland will play protagonist Yuzu, who lives and loves in the world of humans while serving as a divine messenger for the kitsune goddess, Inari.
Other talent includes Angela Tran (Genshin Impact, Lake, Summer in Mara) as Kiri, Yuzu's childhood friend and member of the kitsune nobility. She grows jealous of the human healer, Akko, voiced by Katlyn Dannes (The Homework's Revenge: Esther in Wonderland and Square Roots), after she saves Yuzu, and sparks up a blossoming romance.
It doesn't stop there, as Kitsune Tails has other notable veterans of anime and video games as well as talented up and comers for its voice cast. Brent Mukai (Ratchet and Clank: Rift Apart, Pokemon Masters) will be in the game as the Cat Merchant. Additionally, Mylo Reid, who has appeared in multiple LGBTQ titles, plays Kiri's uncle Kamino. Kellyn Stephens, a stage performer and tenor singer, makes his video game debut as the Village Elder. Finally, actor and voiceover artist Shogo Miyakita plays the Ghost Samurai.
Here's the new trailer:
Kitsune Tails is due out for Switch once development is complete. A crowdfunding campaign is planned for Q2 2022.
Source: MidBoss PR
Leave a Reply