Knight vs Giant: The Broken Excalibur, medieval fantasy roguelite, coming to Switch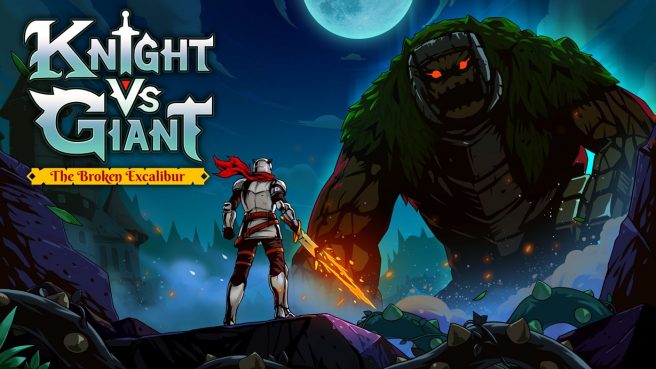 Today, publisher PQube and developer Gambir Studio announced Knight vs Giant: The Broken Excalibur for Switch. A release is planned for 2023.
Knight vs Giant: The Broken Excalibur is a medieval fantasy roguelite in which players take on the role of a legendary hero as they find a way to restore the kingdom to its former glory. Read more about it in the following overview:
Play as King Arthur in this roguelite action RPG inspired by the legend of the Knights of the Round Table. After Camelot has been destroyed by giants who brought chaos about the land and its people, the wizard Merlin – in an attempt to banish the Void Giant from the kingdom – transported its ruins and survivors to the Astral Dimension. The brave knight and his broken sword must now find a way to defeat the giants and monsters scattered around the Astral Dimension and return Camelot to its former glory.

Key Features:

– Defeat Monster and Giants: Giant bosses await you outside Camelot. At the end of each area, you must fight one of three mighty giants equipped with devastating attacks and tons of HP. On your way to these dangerous battles, you'll encounter the mischievous monsters inhabiting the area around the kingdom. Once normal, peaceful creatures, they have turned evil as Camelot faced the giants' attack. Engage in combat with these monsters and defeat them with your broken Excalibur.
– Restore the Kingdom: The kingdom of Camelot is in ruins after the catastrophic attack. Restore it to its former glory by defeating giants and bringing back many of its surviving inhabitants who have been scattered across the Astral Dimension. Restoration works will help you advance in the story and will unlock features aiding you on your adventure.
– Count your Blessings: On your mission, you can choose from several power-ups by selecting one out of three blessings. Overall, there are more than 100 active and passive skills which you can receive as blessings from the legendary knights who perished in Camelot's destruction. Choose carefully, some abilities may be the most useful when equipped with a certain weapon. ​
– Randomly Generated Maps: The beautifully hand-drawn map will randomly generate itself every time you are transported form the kingdom to its surrounding areas. This way, as you explore the Astral Dimension, no two runs will be the same and saving the world won't get boring.
– Help and Recruit Survivors: On your adventure, you will encounter various NPCs who might be able to help you on your mission to save the kingdom. While some will aid you, others can be recruited and sent back to Camelot.
We have a trailer for Knight vs Giant: The Broken Excalibur below.
You can visit the official website here.
Leave a Reply