Kokoro Clover Season 1 releasing this August in Japan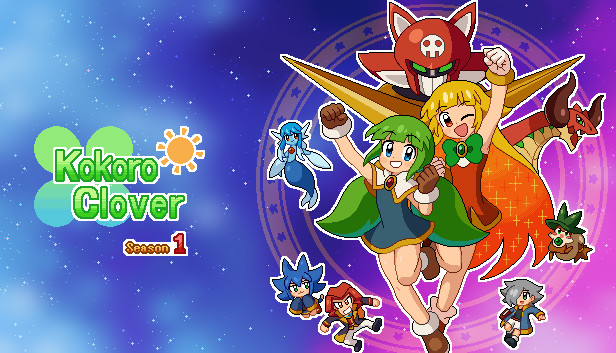 Publishers Phoenixx and Gotcha Gotcha Games and developer Hikotel have announced that Kokoro Clover Season 1 will be making its way to the Switch eShop in Japan. The game is set to land on the system next week, on August 4, and will also feature full English language support.
Kokoro Clover is a 2D platformer heavily inspired by Sunday morning Japanese anime shows. The game's story is structured like said shows, taking place over 12 "episodes" that have you take the role of Spirit Summoner Treffy, a young girl who accidentally finds the magical Kokoro Clover and attempts to uncover its secrets. Beyond the story mode, the game also possesses an adventure mode, boss rush mode, and mini-game modes, along with a slew of unlockables to obtain as you play through the game.
For more information here's an overview of the game:
Gooooood Mooooorning!!!!!

Plop down on the couch in your comfiest pajamas, grab a big bowl of cereal, and prepare to enter "Kokoro Clover", a 2D platformer inspired by Sunday morning Japanese anime shows of the past! Transformations, cards, dancing, and robots! Let's find out what this wonderful world has in store!

◆Story◆
One day, Spirit Summoner Treffy accidentally finds the "Kokoro Clover" and goes on a big adventure with her friends to find out its secrets! The story is filled with silly rivals and formidable enemies who want to steal the Kokoro Clover. Season 1 contains 12 episodes!

◆This game features◆
The game features a "Story Mode" that lets you enjoy the Sunday morning feeling and an "Adventure Mode" that is similar to traditional platforming action. Use the coins you collect to unlock power-ups, dances, unique characters, monster books, and cards! There is also a "Boss Rush Mode" and a "Mini-Game Mode".

・The story includes Opening and Ending animations, and commercials!

・The time in the upper left corner can be changed to 8:00 or 9:00! Relive that feeling of watching anime in the mornings!

・In addition to transforming Treffy, you'll also be able to control a formidable rival and a bright red robot!

・There are more than 20 bosses in the game!

・Featuring original music from prolific chiptune composer, Shinryu!
And here is the Japanese release date trailer for the game.
Kokoro Clover Season 1 is releasing on the Japanese eShop August 4, 2022. As previously mentioned, the game will fully support both Japanese and English language options.
Leave a Reply