LEGO Super Mario Luigi's Mansion Sets revealed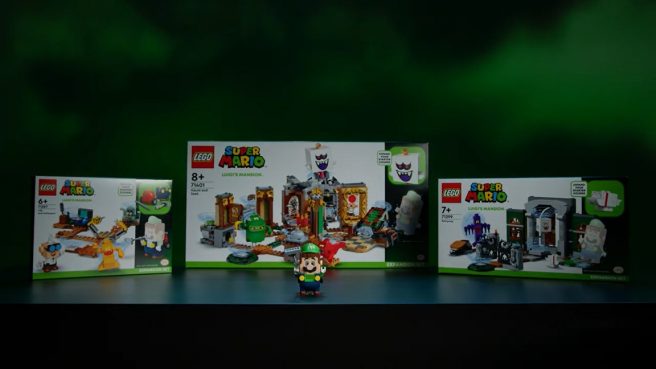 In celebration of Halloween, it's been announced that the LEGO Super Mario line is expanding once again, this time with sets based on Luigi's Mansion.
King Boo, Polterpup, Bogmire, Toad, Boo and other characters from the Luigi's Mansion series will be featured. Players can use a LEGO Luigi (or LEGO Mario) figure from a Starter Course in new challenges. The sets themselves have new immersive sounds and music.
In the LEGO Super Mario Luigi's Mansion Lab and Poltergust Expansion Set, you can suit up with the Poltergust and attach a normal nozzle or the Strobulb accessory. After pressing the button to activate the Poltergust, you can catch the Gold Ghost and collect a coin reward from the machine in the lab. Professor E. Gadd is here for a chat and the set has potions, though you'll have to be careful not to be poisoned or you will need the antidote.
Also coming soon is the Luigi's Mansion Entryway Expansion Set. You'll maneuver your way into the mansion, where you'll have to find a way to defeat Bogmire. Players will need to search for the Golden Bone to give to Polterpup while watching out for Boo.
Last but not least, LEGO Super Mario will have a new Luigi's Mansion Haunt-and-Seek Expansion Set, complete with hidden gems to uncover. Here players can create a gem-hunting, ghost-battling level with rotating hallways to explore. It's even possible to connect all three new sets or build out LEGO Luigi's Mansion levels with other LEGO Super Mario sets and characters.
Here's a trailer promoting the news:
All of the new sets release on January 1, 2022. Pricing is set at $24.99 for the Lab and Poltergust Expansion Set, $39.99 for the Entryway Expansion Set, and $79.99 for the Haunt-and-Seek Expansion Set.
Source: LEGO PR
Leave a Reply