LISA: Definitive Edition gameplay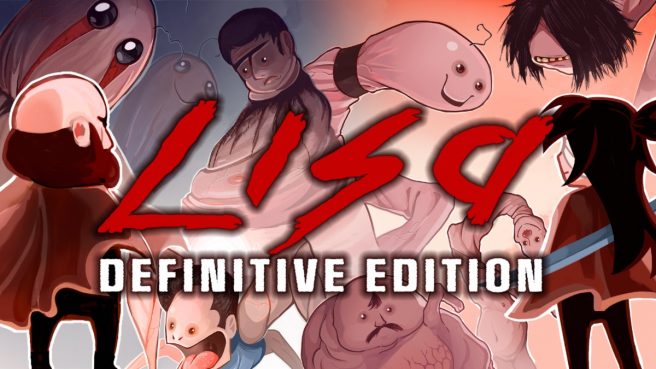 LISA: Definitive Edition came to Switch this week, and we have gameplay. Footage shows off both of the titles – The Painful and The Joyful.
Continue on below for more information about the release.
After a mysterious event known only as the "White Flash" wipes out all women in existence, warlords, imbeciles and perverts are left to rule the world of Olathe. Follow Brad's relentless journey through the barren wasteland making sacrifices and cutting off arms to save party members, fighting through countless unique monster and enemy encounters, beating up old friends and past traumas and doing whatever it takes to save his daughter, the last girl alive…

LISA: Definitive Edition brings new content and nightmares to the game with:

HD graphics and pixel-perfect int scaling.
Brand-new campfire conversations, allowing you to mourn the deaths of party members even more.
New enemy and boss fights.
New quests featuring never before seen battles and dialogue.
Brand-new stories with multiple endings.
Updated battle systems introducing new "Warlord Skills," updated timed attacks and UI overhaul.
New border art overlays for wide-screen viewing.
A new music player to listen to your favorite tracks and 20+ new Definitive Edition-exclusive songs.
Painless (easy) mode for players looking for an easier time.
Controller features utilizing Nintendo Switch HD Rumble
12 new localized languages.
And even more secrets to explore.
And here's the LISA: Definitive Edition gameplay on Switch:
LISA: Definitive Edition can be purchased now on the Switch eShop, though both games are also available individually. Only English is supported.
Leave a Reply