Little Witch Nobeta Japanese physical release supports English, pre-orders open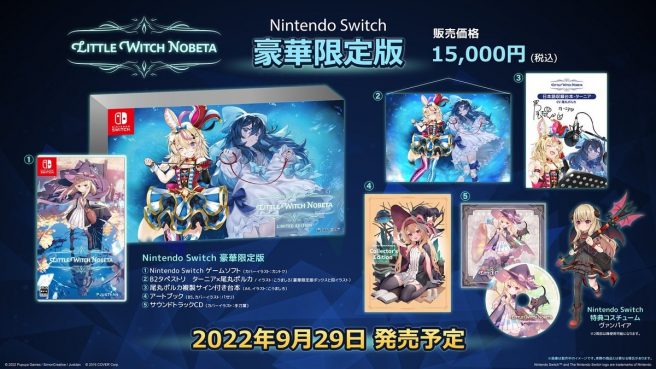 It's unclear what Little Witch Nobeta's status is for the west, but fans will be happy to hear that the physical versions in Japan will support English. Just like any other Switch game, you can import a copy to your region and play it in that language.
Little Witch Nobeta will have a standard release on Switch along with a limited edition. The latter includes a copy of the game, special illustrated box, script with autograph (A4, 48 pages), B2 tapestry, art book (B5, 32 pages), and soundtrack CD.
Here's some information about Little Witch Nobeta:
Nobeta, the little wonder, came to the castle alone to solve the mystery of her own life. Constantly challenging powerful crafted souls, she learned all kinds of magical abilities and befriended a mysterious little black cat.

What secrets hide in the depths of the castle?

The Little Witch Nobeta is a 3D action shooting game. Players will explore ancient, unknown castles and use different magic elements to fight against the soul!

The game uses a comfortable Japanese art style, but the battles are quite challenging despite its cute looks.

Underestimating your foes will lead to troublesome encounters. You must discover enemies' weaknesses and learn the precise time to dodge attacks in order to gain an advantage in combat.
You can pre-order and import the physical versions of Little Witch Nobeta with English support from Play-Asia here. The game will be released on September 29, 2022.
For more information about the region-free nature of Switch and importing, check out our article here.
Leave a Reply