Magikarp Jump starting to launch on iOS, out now in Italy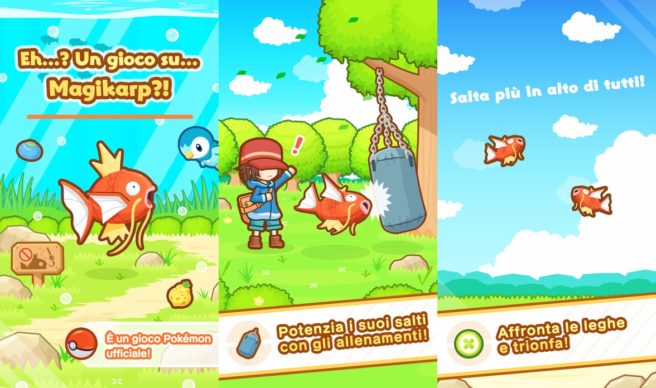 Earlier this year, we heard about a new game for mobile under the title Splash! Magikarp. The game is now starting to launch, as it's been spotted on iOS for Italian users. An official page is located here.
Here's a rough translation of the game's overview:
Who would have thought? A game on weaker Pokémon there is: Magikarp! With this official Pokémon app, simple and suitable for everyone, you can play in your spare time to grow the most majestic Magikarp that exists!

That Pokémon Magikarp?
· It is famous … but through weakness, unreliability and uselessness in general.
· It is not able to learn powerful moves: does is jump!
· When you jump too high, it can happen that It is caught by Pokémon Bird Pidgeotto, which takes him away!

The fate of Serbia is in many surprises for this pathetic Pokémon, but do not worry: look what jumps he does!

What kind of game is it?
● With simple controls, training generations of Magikarp is for everyone
touches the food that appears on the screen to feed your Magikarp, foul or training to increase his jumping power! It's easy, and each generation grows faster than the previous!

● Find your Magikarp different to show to your friends
in this app you can draw several Magikarp with unusual motifs such as tricolor or polka dots! When you meet a rare Magikarp, show it to your friends via social media!

● Pikachu, Piplup and other Pokémon help you
Some famous Pokémon may appear to help your Magikarp to grow. Play and discover with whom you can befriend Pokémon!

● Spice up your aquarium with the decorations!
Give a personal touch to the tub where train Magikarp. Create the aquarium of your dreams and, at the same time, helps Magikarp to grow faster!
We'll let you know when Magikarp Jump rolls out in other countries. The game should also be coming to Android soon.
Leave a Reply