Manticore – Galaxy on Fire lead designer on the delay, Nintendo offering a refund for pre-loads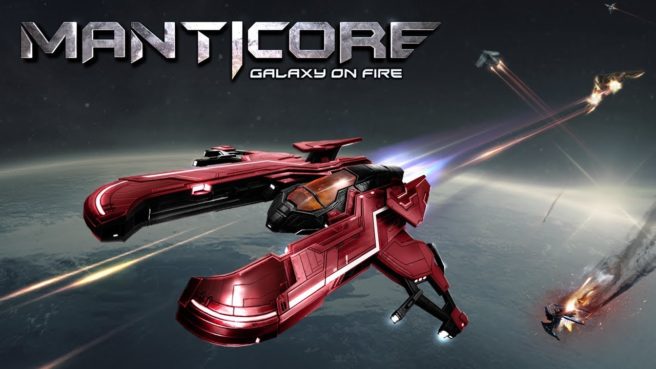 Manticore – Galaxy on Fire was unexpectedly delayed this week. Just a day before its intended March 22 launch, a notice was sent out stating that the Switch game had been pushed back. A new date will be announced soon.
Manticore lead designer Patrick Imbusch has since passed along a few words about the delay. Imbusch shared the following:
It seems most of you have noticed that we posted a message about the last minute delay on the Switch's news channel and a couple of sites picked it up as well. If you haven't read it yet, here it is:

"Dear fans and players, Deep Silver is sorry to inform you that the release of Manticore – Galaxy On Fire on the Nintendo eShop has been delayed. Right now, we're working hard to bring the best-possible sci-fi gaming experience to your Nintendo Switch.

We will be updating you with more details as well as the new release date in the coming days. If you pre-ordered the game, please note that your purchase is still valid and you will be able to access the game as soon as it's released.

Thank you for your continued patience and support."

I can't give you a lot more details at this point, but you can probably imagine it's a very unfortunate situation for everyone involved, as we were just excited as you to see reviews, discussions and especially you guys getting your hands on it today. We didn't make that decision lightly, but it had to be done due to an unexpected issue that basically occured at the very last minute and despite our best efforts couldn't be fixed in time.

We're working very closely with Nintendo to keep you updated and people who pre-ordered will receive a separate message by Nintendo soon. We will announce a new release date in just a few days and while it's not 100% set in stone yet, you can be sure it's not going to take months but only a few weeks till the game (finally) launches.

Again, thanks for your understanding, we appreciate it a lot.
If you absolutely can't wait for Manticore – Galaxy on Fire, need the funds, or for whatever other reason, you can actually obtain a refund from Nintendo if you pre-ordered. The company is sending out emails to those who pre-loaded the game.
Here's the message (thanks Jes T):
The reason you are receiving this email is that you were identified as having pre-purchased the Manticore – Galaxy on Fire game for Nintendo Switch. Although the game was set to be released on 3/22/18, we're sorry to report that the release is being delayed. We are unable to provide its new release date, but assure you that the developer and Nintendo are working hard to release it as soon as possible.

We hope you are willing to wait to enjoy this great game; however, if you wish to cancel your pre-purchase and have your funds returned to your Nintendo Switch eShop account, please contact Nintendo Consumer Service at 1-800-255-3700. Thank you for your patience in this matter.
We'll bring you Manticore – Galaxy on Fire's new release date as soon as we have it.
Leave a Reply