Mappy is this week's Arcade Archives game on Switch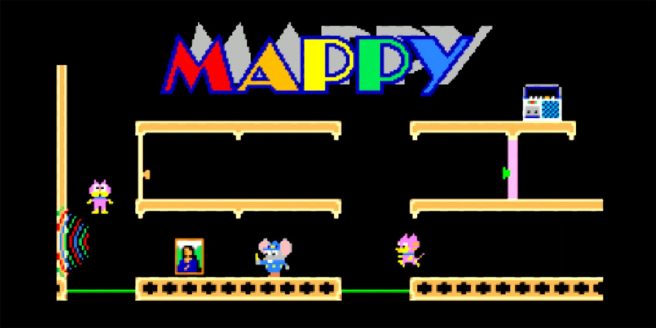 Hamster has been bringing hundreds of arcade classics to the Switch eShop through its Arcade Archives label, spanning many genres and release years. This week's game is the platformer Mappy, here is an overview from the International Arcade Museum:
Game Introduction

The game music appears to be based on ragtime. There are a total of fifteen rounds in the game, after which it wraps back to the first round. The design was created by Namco and licensed to Bally Midway, who built it.

The player controls Mappy, the "Micro Police, a police-mouse whose job is to collect valuables from a cat's house one has to surmise that he is retrieving stolen goods.

In hot pursuit of our hero is a gang of five pink cats called Meowsky or "Naughty Folks" and a large red fat cat called Goro or "Boss The Big Bit".

Game Play

Consists of trying to recover a set of stolen goods from a house apparently owned by cats, one of whom is a boss Goro.

Treasures two each / Value points:

tape player – 100
television – 200
computer – 300
painting – 400
safe – 500

Other sources of points include bouncing on a trampoline 10 points, striking a cat with a door 50 points, 0 points if they hit a door on their own, microwaving cats 200 per cat and multiply by two if you get Goro, retrieving a treasure with Goro behind it 1000 point bonus, striking cats with a bell 300 for Meowsky, 1000 for Goro, and dropping cats through a hole in the floor unknown value.

Strategies for getting the treasures without getting killed and maximizing your points vary. If you retrieve the treasures in pairs, multipliers will increase such that the final treasure, the second safe, will be worth 3000 points. This would give you a potential 8500 points just from treasure recovery. Getting killed resets the multiplier, so this assumes that you take the treasures in order and don't get killed. You might also simply try to microwave as many cats as possible at once, and catch Goro behind every treasure he hides behind.

Use the Door button to open and close doors. Cats are stunned by doors which hit them, but they can open normal doors which they come upon from behind. Only Mappy can open microwave doors. Once used, microwave doors become regular doors. Cats never close doors. Rounds begin and game resumes with all doors closed regardless of their previous state.

Levels 3, 7, 11, and 15 are bonus rounds. Each red balloon you pop is worth 200 points later. The last balloon, with Goro behind it, is worth 2000 points later. Bouncing on trampolines here is still worth 10 points. If you get all the balloons, you'll get a total of 5000 points plus a bonus of 5000 points. To completely clear rounds 11 and 15 require noting a difference between rounds three and seven. If you wait too long after the HURRY UP message, a green spinning disc with Goro on it will appear.
Arcade Archives Mappy is scheduled to launch digitally tomorrow on October 21, and will cost $7.99 / €6.99 / £6.29 on the Switch eShop.
Leave a Reply